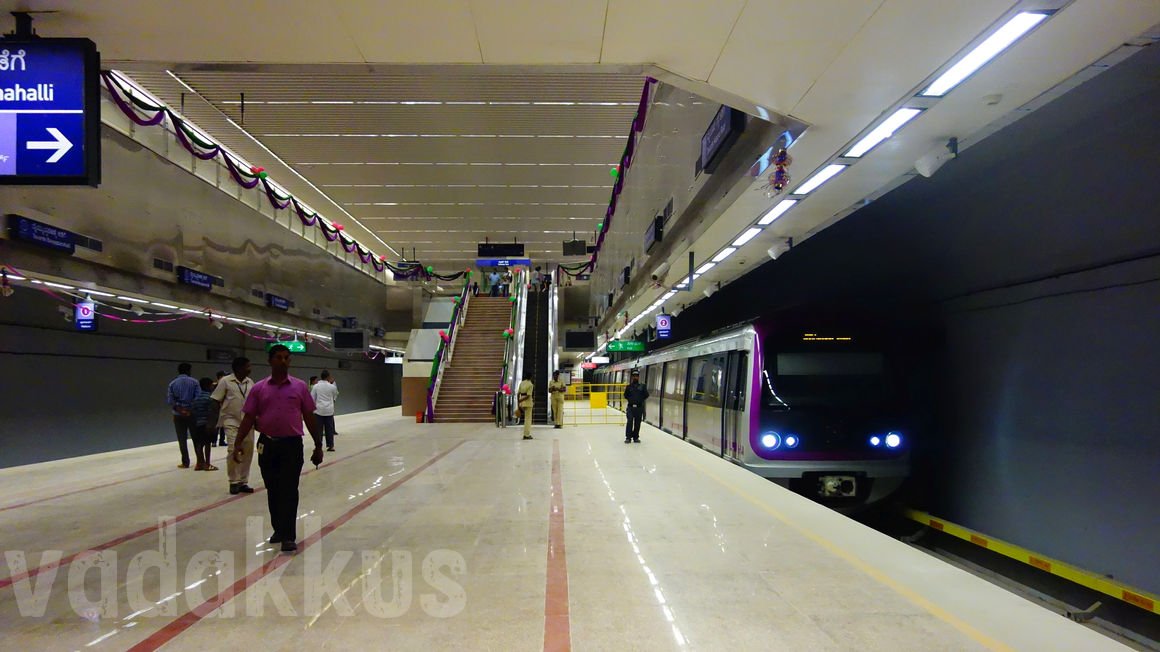 Bangalore's Namma Metro system has just grown up with the opening of the entire stretch of the east-west Purple line as envisioned in its original plan for the "first phase", way back in 2004. The line now runs from Baiyyappanahalli on Old Madras Road on the eastern parts of Bangalore to the Mysore Road "terminus" station near Nayandahalli on the western side of the city, passing though Indiranagar, MG Road, Majestic and Vijayanagar. The line length is now 18.4 kilometers, 10.3 out of which runs overhead on pillars, and 8.4 km runs underground in tunnels. The line was first proposed in the ancient times of 2004, and construction started in 2006. In 2011, the overhead section from Baiyyappanahalli to MG Road was opened, and in 2015 the section from Mysore Road to Magadi Road opened as well. And now, on April 29 2016, after a decade of piling, digging, concreting and traffic snarls, Bangalore has finally a line of Metro train that can be said to be a "real" mass transit system! Here we will check out Namma Metro's Purple Line!
Riding the Namma Metro Purple Line
I would take the train around 20 times covering different sections over the next two days, and every single time it was chock-a-block, filled to the brim! Huge crowds of super-excited, happy-faced people, gangs of guys and girls, lots of middle aged men passing expert comments on the trains and metros, a lot of couples, many "photographers" (like me), full families of appa-amma-thatha-paatti with kids and grand kids in tow, dressed in their best finery arriving en-masse in cars, buses, autos and motorcycles to check out the ride, standing patiently in ticket-counter queues, fumbling with the tokens and turnstiles while Metro veterans breezed through those with their wallets in hand, photographing everything and taking selfies in front of everything, making this moment memorable as they would their own wedding. Everyone was talking nonstop of how good the trains are, how courteous the staff are, how neat and clean and shining and "modern" "like in foreign" everything is.
So my train left Baiyyappanahalli at 1220 on April 30 2016, the three-car trainset filled to the gills with happy commuters. We crawled past over the traffic jams of Old Madras Road, the big concrete buildings of Indiranagar, the multicolored, multistoried 30×40 box houses topped by Sintex tanks of Ulsoor, the wide roads and lush greenery of the Central Business District, the shockingly dilapidated buildings of MG Road, and then sped through the tunnels of the underground section and its mint-new stations, emerging to view the run-down areas around Prasanna Theater, Magadi Road, and then went past more of the middle-class Bangalore skyline of multicolored Sintex tank-topped concrete boxes, past the posher and more greener areas of Vijayanagar and magnificent views of concrete monstrosity towers from Attiguppe and Deepanjali Nagar, to arrive at Mysuru Road metro station squeezed next to a flyover at 1259, 39 minutes after we left Baiyppanahalli.
You can take stock of my entire Baiyyappanahalli – Mysore Road journey below.
People were understandably pretty excited, happy and in many cases, spellbound, as it is surely the first time they are seeing something of this sort: precise, clean and shining infrastructure in a country where everything is crumbling and decrepit. Most couldn't get over the shining trainsets, the fact that the train actually will arrive exactly to the minute displayed on the information boards, that the stations are airconditioned and that unbelievably you could reach far ends of the city in times that it would usually take them to get just from their homes to the next main road. Many people from the western areas didn't even know what Baiyyappanahalli looked like. But what excited most people was that they could get to Majestic in short periods of time! Bangalore is obsessed with Majestic.
Review of Bangalore Metro's Purple Line and Underground Section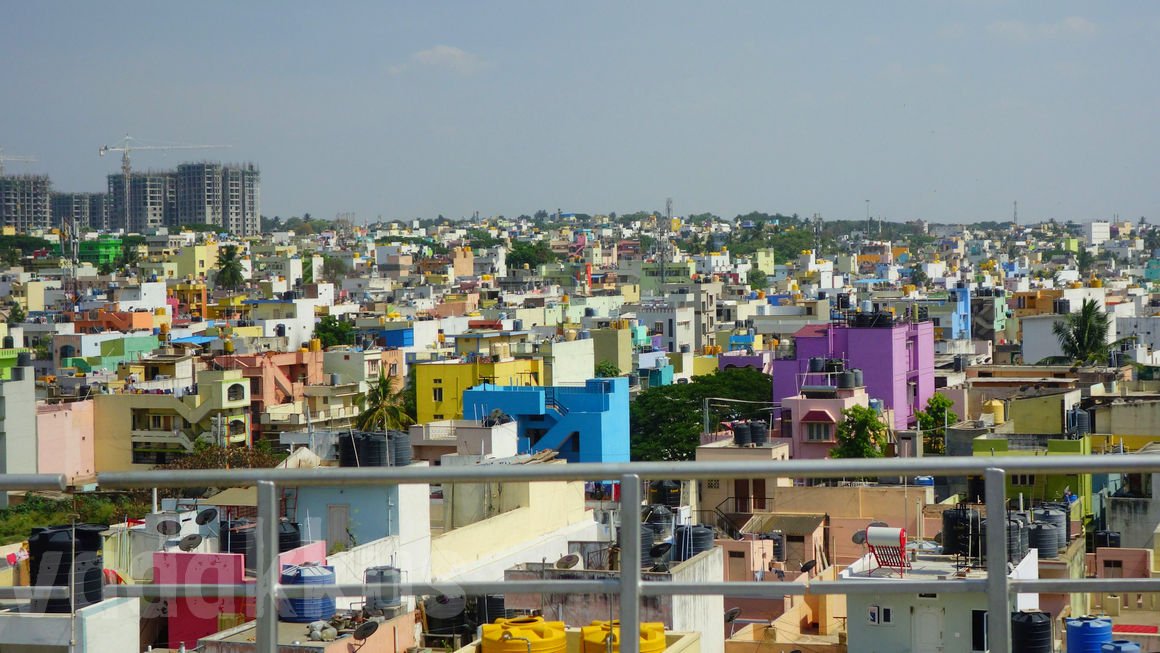 The underground section of the Bengaluru "Namma" Metro is 4.8 kilometers long and consists of five stations: Cubbon Park, Dr. B.R. Ambedkar Vidhana Soudha, Sir M. Visweswaraiya, Kempegowda Station Majestic and Bangalore City Railway Station. After being treated to a view of all of MG Road, you will take a turn to the right at Anil Kumble Circle and soon start descending and just before the cricket stadium we will disappear underground, bright sunlight being replaced by the darkness of the tunnels and flashes of tunnel lights as the train speeds by. No, you will not feel a thing as the train enters or exits the tunnels. It all happens very fast! 🙂
To start off with, let us just say theat Bangalore Metro stations are quite bland, when compared to their international counterparts. None have screen doors yet and the facades and designs are quite utilitarian. All underground stations except Majestic share the same layout. From the entrance you walk along (long, very long) corridors to reach the concourse with the ticket counters on the left and the turnstiles facing them. From where you can descend onto the platform you see the concourses extending further on both sides as "balconies" over the platform with a cross connection at the middle where the lift is located. The entire thing is in the shape of an '8' with the "holes" in the '8' being where you can look down to the platform from the concourse. As it is with every underground Metro station in the world, trains arrive at either edge of the single platform with the other side being the wall of the tunnel. The corridors could've been shorter.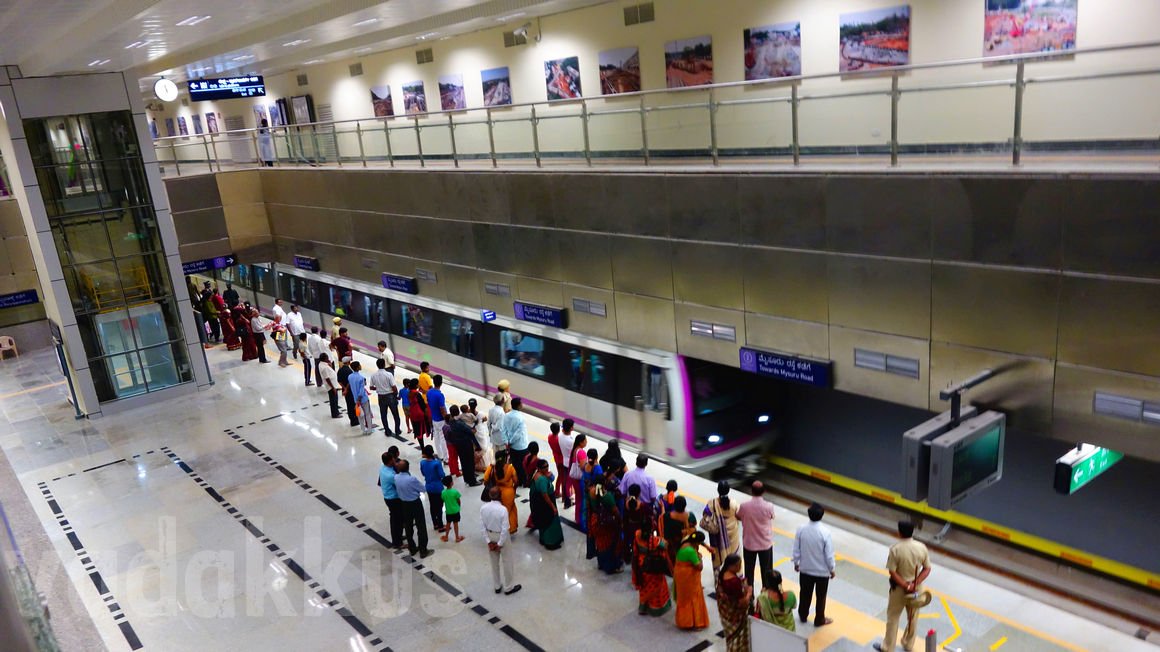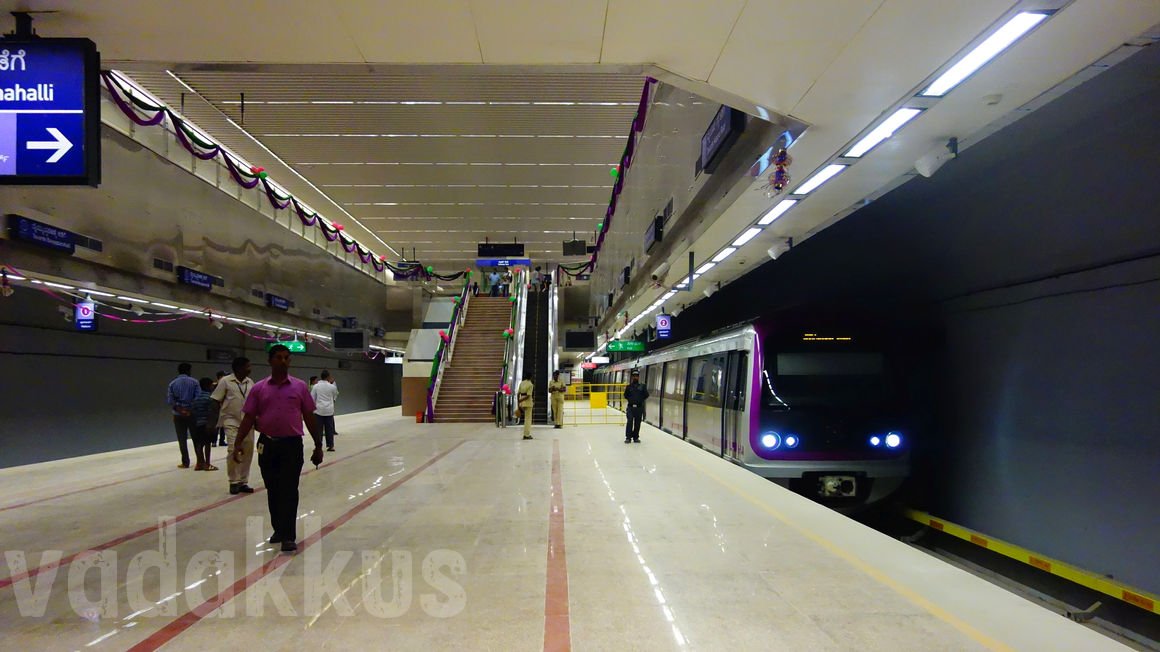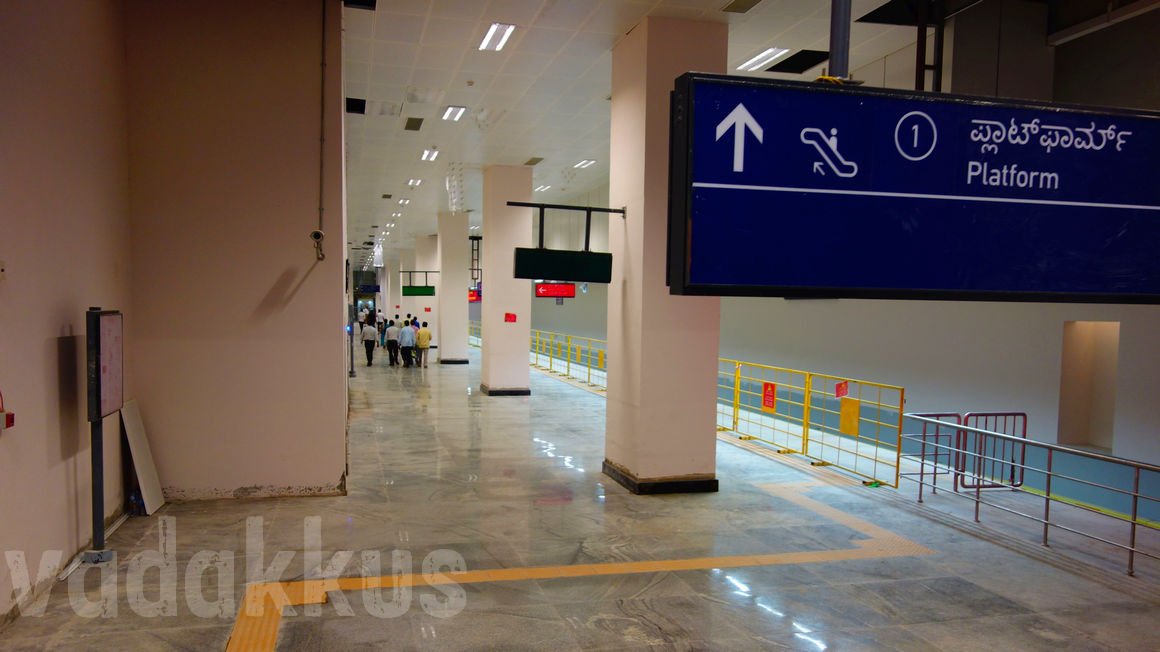 Cubbon Park Metro Station
The Cubbon Park Metro station is the first (or last) station in the underground section. It has four entrances located on the four corners of a beautifully remade Minsk Square. One entrance is right next to the Cubbon Park entrance, next to which the mock-up of HAL's Tejas fighter jet has been installed. The other entrances are next to the income tax office, in front of the HAL building on Ambedkar Road and next to Chinnaswamy stadium gate 9. All entrances have been planned for maximum convenience for commuters. Expecting lots of traffic during cricket match days and on Sundays with people heading for Cubbon Park. The interiors are just like the other underground stations.
Dr. B.R. Ambedkar Metro Station Vidhana Soudha
The Dr.B.R Ambedkar metro station Vidhana Soudha is undoubtedly the crown among all Namma Metro stations. The entrances have beautiful detailing on them and pillars designed to match the architecture of the Vidhana Soudha. Its four entrances are nrxt to the Vidhana Soudha, next to the Vikasa Soudha, right in front of the Karnataka High Court and at the western entrance to Cubbon Park. This one is a boon to government employees and people who come to get government work done. The station also has a unique feature: more than a hundred large photographs of 1 meter square mounted along the walls of the concourse "balconies" and along the long corridors to the entrances, depicting different stations along the underground section in various stages of construction. These photos are a must see and will leave you in awe about the sheer scale of this mammoth construction project. Kudos to Namma Metro and whoever dreamed up this idea! The photos are as of now just suspended from the ceiling, it would be great if they would frame them and mount these on the walls. Here are some of those pictures. Click here to view more, but nothing beats seeing them in real!
Sir M. Vishwesharaya Metro Station Central College
Sir M Visweshwaraya Metro Station is named after the great pioneering engineering mind Sir M Visweshwaraya, who among other things designed the KRS dam in Mysore and was the chief engineer of the Vidhana Soudha. Its four entrances are right in front of the civil courts complex, opposite it, next to Central college and then next to. College. Commuters will be students, lawyers and people coming to the courts.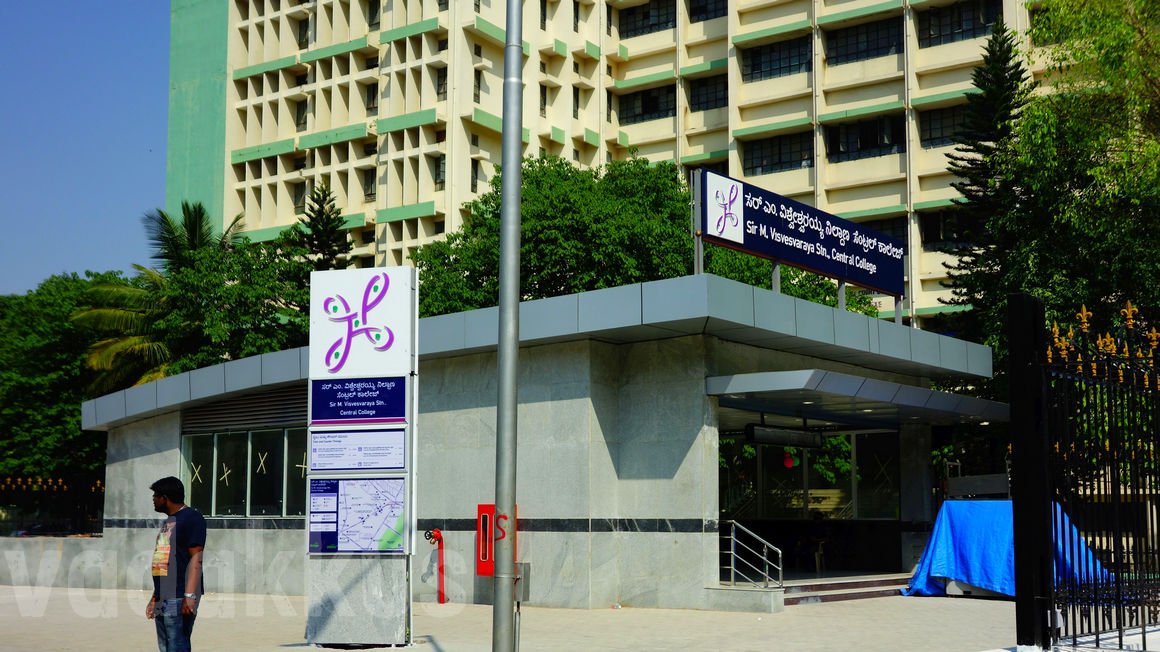 Kempegowda Metro Station, Majestic
The capstone of the entire Namma Metro system, the massive Kempegowda Metro Station Majestic will be without doubt the single most important station on both the Purple and Green Lines. Bangalore is obsessed with Majestic, the heart of the city and its massive transport hub, being the location of the Bangalore City Railway Station (SBC), the KSRTC and BMTC bus terminals, also named after Kempegowda, and is a major commercial area as well. It will also be the interchange point where the Purple and Green lines cross each other, the latter running beneath the former.
The station is different in design from all other Namma Metro stations, featuring a long, glass fronted facade facing the Gubbi Thotadappa Road (road in front of the railway station). It sits bang where the KSRTC bus station used to be earlier and only one small part of it is open as of now. The other end of the station will have a semi-circular entry that reminds one of the BMTC bus station. It has a big, sprawling concourse that opens up directly from the entrance and two underground platforms seperated from each other unlike the other underground sections. The other half of the station will be functional only once the Green line is opened. The station will open directly on to the KBS KSRTC long-distance bus station. It would be great if it will have a direct overbridge to the BMTC bus station as well. Thanks to the subways, this station is more convenient for people alighting at SBC as well. Getting home from Majestic will never be a hassle again!!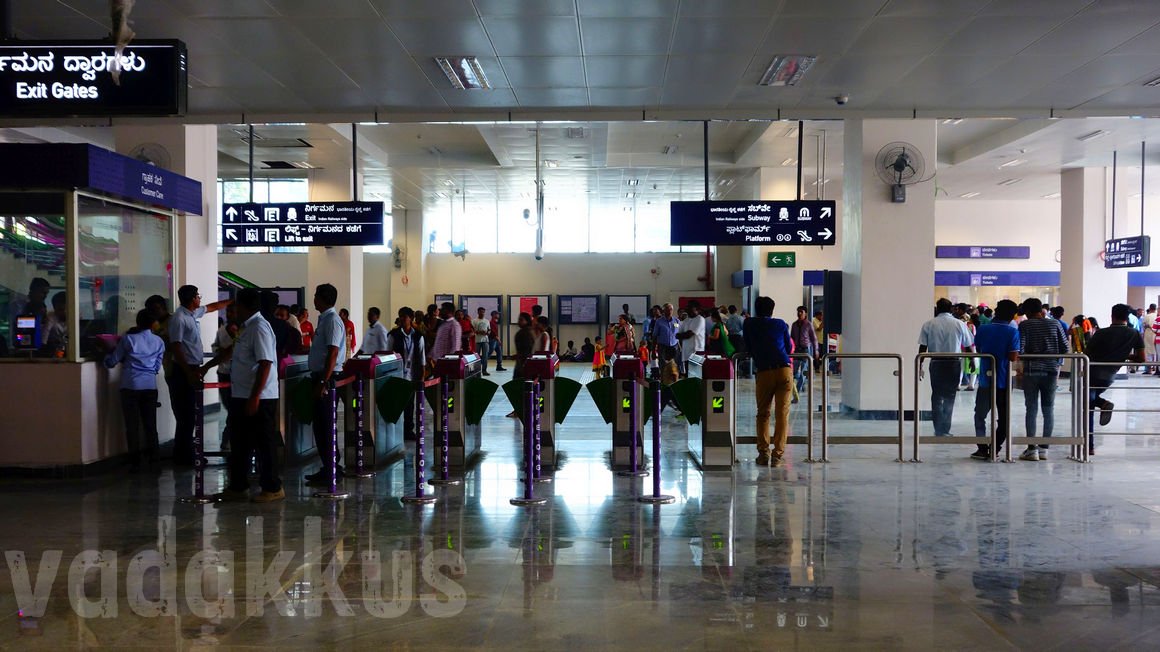 Bangalore City Railway Metro Station
The "Bangalore City Railway Station" metro station is a massive disaster. It's plan is so awful that it flies in the face of every conceivable urban planning rule. A railway terminus is a place where thousands of people alight from long-distance trains mostly with luggage, and 100%, all of them are "forward transit" passengers who need to travel onwards to their destinations within the city, which is why, world over railway terminals are the focal points for urban transit systems, with their stations usually directly accessible from the railway terminus itself. Many stations world over have their Metro systems located directly underneath the railway station, directly accessible from the platforms without having to leave the station itself. However, look at how it has been done here.
This is what you see after exiting the "Bangalore City Railway Station" Metro station!
Yes, those are the washing pitlines where trains are washed and serviced after their service. The location is the southern end of the railway station beyond Platform 10. To get to the railway station, you will have to walk along a narrow road overflowing with water from the pitlines while dodging local hooligans racing their bikes to reach a hole in the wall, from where you have to climb a dangerous staircase to reach the main railway overbridge across the platform. If you have to get to/from the metro station to Platform 1, you will have to walk around a kilometer! Not only can you forget doing this with luggage, that road is definitely not safe also.
This is the view of the Metro station from the railway overbridge.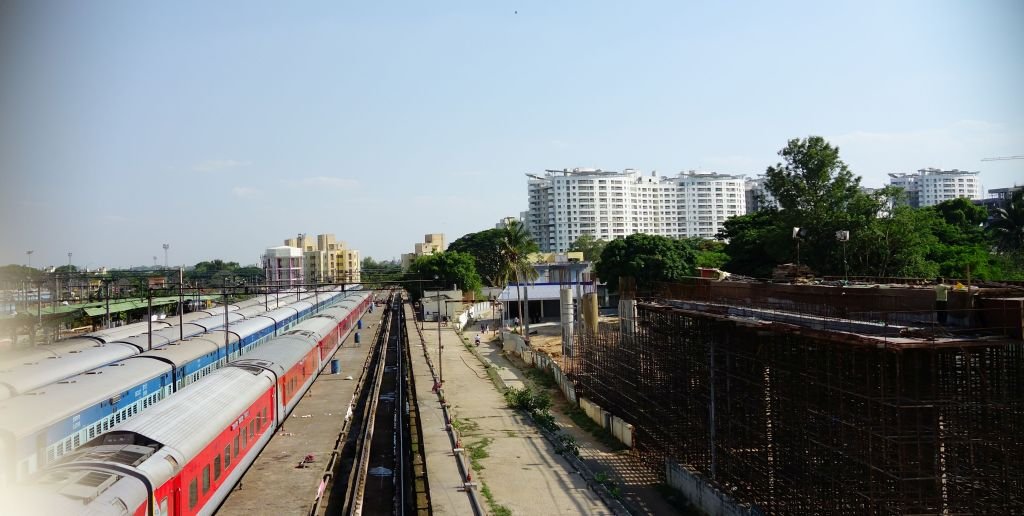 Here is a picture of the entrance.
It is pathetic that Namma Metro's planning has failed at precisely where it was required the most! The station should've been directly underneath SBC and accessible from every platform and from outside. Namma Metro authorities have promised to build a skywalk to the metro station, but even that cosmetic upgrade will hardly do anything to mitigate this huge planning blunder. When many other Metro stations, especially the underground ones were so well and thoughtfully designed and located, this does only look intentional, of course the designers are intelligent people, they would know about this shortcoming of the Metro station. So who was the "force" behind this monumental design blunder? The auto-mafia? Most probably. This is the curse of this country.
Overhead Stations and Commuter Connectivity
Mysore Road Metro station is located a bit away from the Nayandahalli Outer Ring Road junction and its concourse runs athe same height as the flyover on Mysore Road. It will be the terminus of the Purple Line until it is extended to Kengeri. From a commuter point of view it is pretty useless unless you have a car, because buses use the flyover and you cannot change from a bus to the Metro, unless they construct a bus stop on the flyover. But the station is huge in its sheer size. It has lots of parking space as well. Deepanjali Nagar metro station is the station that should not have been. It is utterly useless for anyone, sitting where the Chord Road diverges from Mysore Road at a chaotic junction and surroundings that look like a bombed out warzone. Instead, they should've run the line to the Mysore Road Satellite bus station and constructed a station there, probably with curving platforms. This would've been a million times uselful for commuters who board/alight from buses to /from Mysore, western Tamil Nadu and Kerala. Unfortunately that won't be. Attiguppe, Vijayanagar, Hosahalli, Magadi Road all are nicely located and sit on main roads with bus stops right under them, especially Vijayanagar. Magadi Road station though is located in a run down area will cater to a lot of small tenements around. MG Road, Trinity and Indiranagar, as we know are also very well designed to sit bang in the center of their respective catchment areas.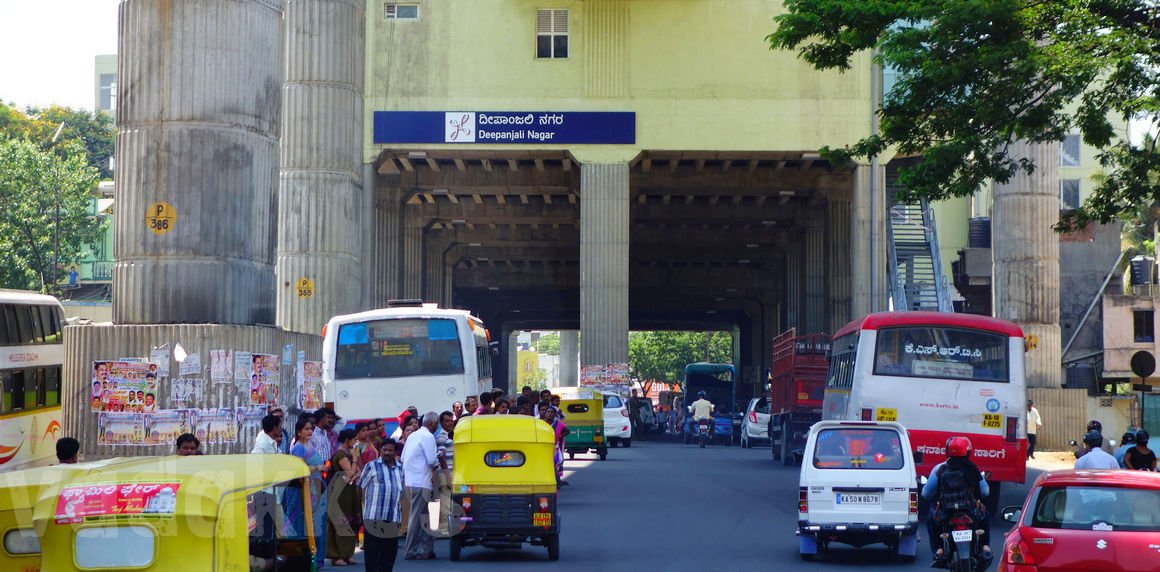 If the Metro has to make a real impact, BMTC needs to get its act together. They seem to completely oblivious of the existence of the Namma Metro and refuse to stop buses at stations. During the time when I was doing "survey work" for my massive Bangalore Metro" design, I boarded a BMTC bus from Kengeri that goes to Majestic and asked the conductor if the bus stopped at Deepanjali Nagar Metro station. He virtually exploded at me: "What is your problem??! Everyone asks to stop buses at Metro stations! There is no bus stop at the Metro station! If some inspector from the corporation sees us stopping the bus where there is no stop, we might lose our jobs! Will you give my family food then?!!" Another examples are Trinity and Indiranagar Metro stations. BMTC staff really hate the Metro, they think it will take their jobs away. But if they work together, both can benefit! As of now BMTC behaves like a jealous elder sibling who sees its younger brother being showered with affection and goodies and refuses to cooperate. All BMTC and KSRTC buses MUST be mandatorily made to stop right at/under every Metro station in Bangalore.
Namma Metro Purple Line: Review Verdict
The Purple Line in its completed state is surely worth the wait, though to be honest, we deserve much more for having waited for all of a decade. We should've had both the Green and Purple lines running in their entirety, and the Phase 3 should've been well into construction by now. But as we know various mafia have been hard at work to stall this, and be thankful that in this world where they dictate terms that it has finally happened. But even then, being able to travel from the eastern parts of the city to the western ends in under 40 minutes (targeted, 33 minutes) is an achievement, nay, a revolution! That feeling of being able to travel at such speeds across the city unhindered by external forces and being able to arrive at places far away in times that you would usually take in the time you usually take to navigate to the main road from your house, is so exhilarating and liberating!
There is one thing to be noted here: Underground sections are much more faster than the overhead ones, because overheads sections twist and turn to follow the road they are built on (Magadi Road – Hosahalli) while underground sections have no such limitations. So, if you want fast but boring Metro, build underground, and if you want slow but scenic Metro, build overhead. The now-familiar trainset is at par or even better than those in many developed countries and is fast, spacious, airy and comfortable. Stations though look utilitarian are spacious, well-lit (except some) and well-maintained (except for the pigeons). The newly opened underground stations are lacking in much of fit and finish and need to be cleaned better, especially Majestic which is still under construction. The Metro staff are a courteous, helpful and cheery bunch, kudos to them for pulling though this massive effort! The private security guards on the platform though are rude, bad-mannered and ill-tempered and I HATE their goddamn whistle blowing!!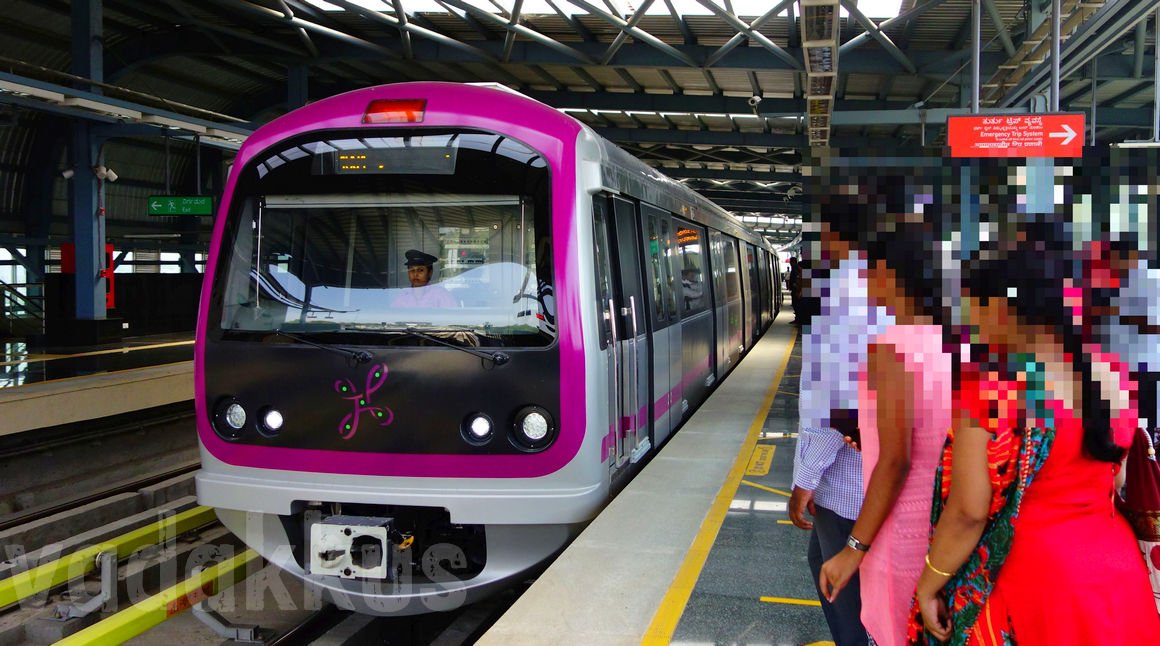 Now that Bangalore has got a "real" urban mass-transit Metro line, two things are going to happen: The train will run jam-packed, filled to its brim, and there will be absolutely no reduction in traffic whatsoever on Bangalore roads whatsoever. This is because of reasons I had explained before, the commuters on this line will be mainly the "local" people who occasionally drive cars and ride motorcycles/scooters or take BMTC buses the rest of the time. A lot of commuters who commute by car will surely take the Metro too, but their numbers will be too less to make any significant impact, for the destinations of those road users will have to lie exactly on this Metro route. A major chunk of passengers of the Purple line will be of course transit passengers to/from Majestic, and not just office commuters. There was a lot of speculation that "traffic will reduce" after the line opens, but it won't, unfortunately. Now we can wait only Phase 2 is completed (which hasn't even started) when the line will run till Kengeri in the west and till Kadugodi (Whitefield railway station?) in the west, when the Purple line will become a "real" real Metro line. And of course, we will not "really" have a "real" Metro system until this is built 🙂
Some Facts About the Bengaluru Namma Metro Purple (

and Green

) Line
Major travel times: Baiyyappanahalli to Mysore Road: 39 min

Baiyyappanahalli to MG Road: 12 min
Baiyyappanahalli to Majestic: 23 min
Indiranagar to Majestic: 19 min
Indiaranagar to Cubbon Park: 12 min
MG Road to Majestic: 11 min
Vidhana Soudha to Majestic: 6 min
Vijayanagar to Indiaranagar: 20 min
Majestic to Mysore Road: 12 min

The doors of trains open on the right in underground stations and on the left on above ground stations and at Majestic.
Fares: Fares are very low, starting from Rs.10. Even for an end-to-end journey, it will be only a bit more than half of what you pay for a liter of petrol!
You will get upto 20% discount on fates if you buy a rechargeable "Varshik" travel card (or can also be called a "pass"). Available at all ticket counters and customer care centers.
Frequency: Metro trains run on cyclic timetables and now run roughly every 10 minutes from every station, but soon that might come down to 3 minutes. Protip: From Baiyyappanahalli a train leaves at minutes that are multiples of '10'. (0810, 0820, 0830 etc).
All underground stations are centrally air-conditioned.
The first train from both ends will start at 0600 and the last train at 2200.
There is parking available adjacent to metro stations at Baiyyppanahalli, SV Road, Deepanjali Nagar (only 5-6 cars) and Mysore Road stations only on the Purple line and at Nagasandra, Yeshwantpur (at the railway station), Sandal Soap factory (inside Orion Mail) and at Sampige Road Malleshwaram (inside Mantri Mall) on the Green Line.
NEVER put your heads, hands etc outside doors when they are open. It is an offense!
Happy Journey! May this be the beginning of thousands of Metro journeys!