Kerala
The State of the Railways in Kerala: Rail Terminals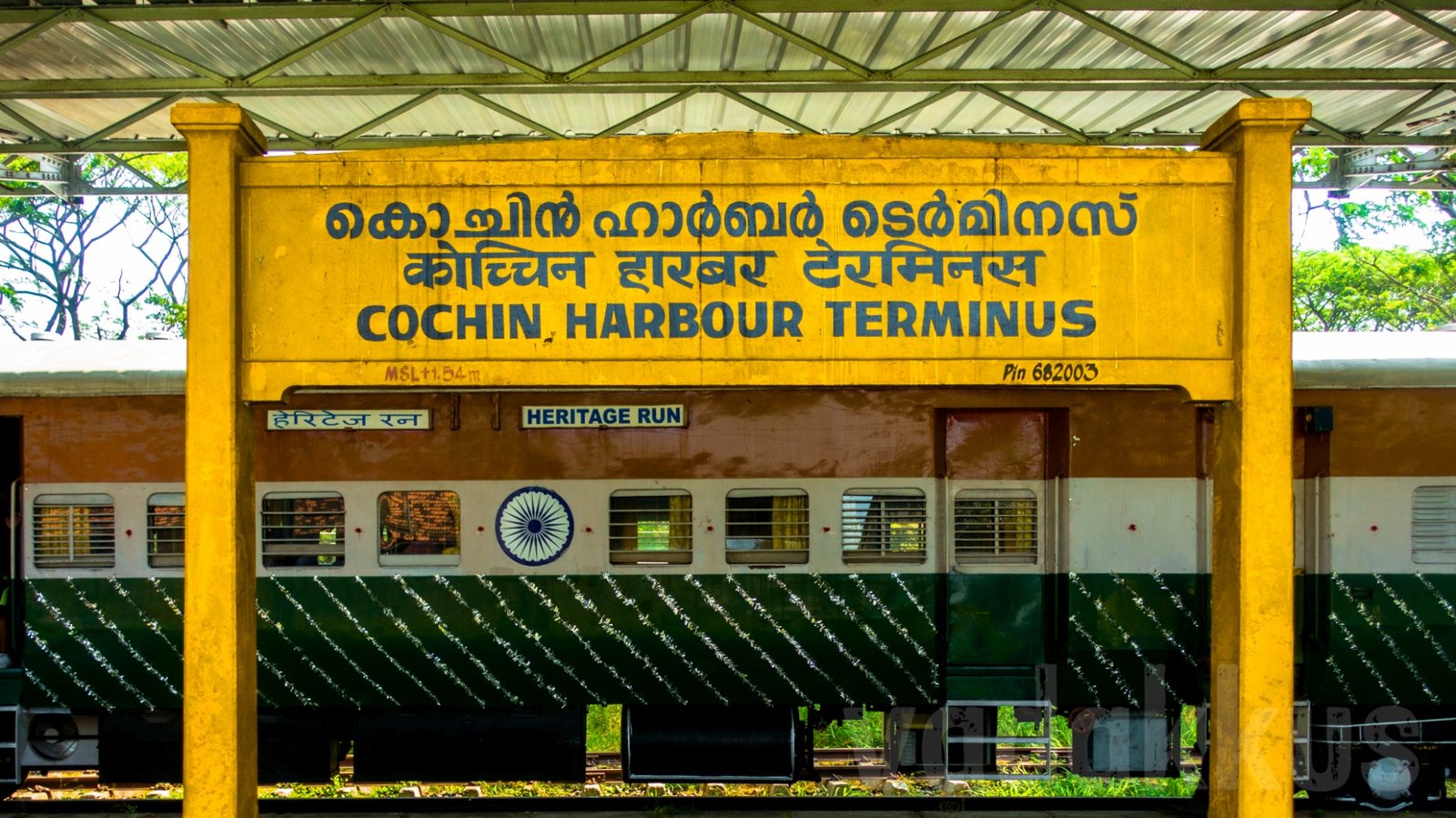 Kerala badly needs more trains to serve its travelling public. The evenly dense population, majority of short-to-medium-distance commuters, trains forcing to halt at every station all make this very obvious. But the Southern Railway refuses to run or recommend more trains for the state. The popular reason for this is that tracks in the state are saturated beyond capacity that they cannot handle any more trains. But that is only half the story. Even if there were to magically appear new tracks there would still be no new trains. This is because space to run is of no use without space to park. Kerala has not just not space on its tracks but in its stations as well, to park, maintain, service and shunt trains. In this chapter, we will look at what and how this "space crunch" is, what has been proposed to mitigate it and why it isn't happening (though we already know the answer to that one, don't we?).
The Lack of Railway Terminals in Kerala
Terminal stations are not just stations where trains start of end their service. Trains are parked and serviced/cleaned/maintained/repaired in large open areas with multiple numbers of tracks called "yards". Yards may be located within the station itself (a wrong practice) or in a separate area. They will contain pit lines used to repair the under carriage of trains and stabling lines for parking. A terminating station becomes a terminal when it has such maintenance facilities attached to it. Coming to our topic here, the railway terminals in Kerala are also so saturated beyond capacity that they cannot handle even existing trains, forget new ones. The Southern Railway quotes this the lack of "terminal capacity" as one of the biggest limiting factors when demands for new trains are raised from Kerala. But like everything else, it has been neglected here as well. The story of railway terminals in Kerala is not just the same old story of negligence but also one of incredible double standards.
Kerala proper has just three terminal stations (Trivandrum Central, Kochuveli, Ernakulam Jn). Tamil Nadu has three large ones in Chennai alone – MAS, MS, TBM and another nine at ED, CBE, TPJ, MDU, TEN, TN, NCJ. Karnataka has nine with the tenth (third in Bangalore) under construction at Baiyyppanahalli and a 11th proposed near Mysore. SCR has recently proposed three new terminals in Hyderabad alone.
Southern Railway refuses to sanction new trains from big stations like Kollam, Kottayam, Shoranur, Palakkad (divisional HQ), Kozhikode, Kannur etc. citing lack of terminal facilities. The same Southern Railway also sees no problem in sanctioning four to six express trains from small three-platform stations like Mannargudi, Velankanni, Shenkottai, Mayiladuthurai etc.
There have been five official proposals for railway terminals mooted for Kerala over the past two decades. Only one has managed to turn into reality, that too in a half-baked manner. The new terminal at Tambaram in Chennai went from proposal to opening in under four years.
The top management of the Indian Railways right from the honourable Railway Minister, the railway board and the MPs are all very much in favour and supportive to open new railway terminals in Kerala as the foundation for better services. In addition, it is quite easy, straightforward and cost-effective to open new terminals. But as usual, there are some dark forces at hard active work to ensure these terminals are never opened in Kerala no matter what happens. And these forces join hands at zonal and divisional levels to use lies, subterfuge, conspiracy and deception to achieve this. This becomes clear when one examines the proposals for new railway terminals in Trivandrum and Palakkad divisions, their probable impact and why they are not seeing the light of the day.
Railway Terminals in the Trivandrum Region
Trivandrum Central station is the natural terminating point for most trains to Kerala given it being is southernmost station. It must be the saddest capital city and divisional HQ in the country with just five platforms (a nondescript station like Karur has as many) to serve 36 terminating trains. It has no space to park or service trains because its (1+3 pit lines and 3+6 stabling lines are fully saturated). The situation is so bad now that trains out of service can be seen parked on all platforms between Kollam and Trivandrum. This makes it incredibly difficult to start new trains out of Kerala. Though it is still possible, it gives them an effective excuse not to.
Currently there are two rail terminals being proposed from Trivandrum to run suburban services and long-distance trains.
The Trivandrum Nemom Terminal was proposed way back in the 2008 railway budget at Nemom, a small single-platform station south of Trivandrum Central. The current yard inside Trivandrum Central station with 5 pit lines and 8 stabling lines is completely occupied at all times. The Nemom terminal may be used to park and maintain all these trains, freeing up the real estate in the station premises to build (at least five) more platforms to start new trains and to build passenger conveniences in addition to the five in this state capital and divisional HQ. Southern Railway slept on the proposal for ten years with the administration even attempting to scuttle the project. But the railway minister took cognizance and inaugurated the project himself to include five stabling lines, one pit line and one shunting neck. Even then there are continuing attempts to sabotage itt! Given the lethargy one can safely assume that it would take atleast another decade for the project to be completed, if it ever will be. They can always project the clear and present excuse of land acquisition. But there already exists another terminal in Trivandrum.
The Trivandrum Kochuveli Terminal was opened as the second terminal north of Trivandrum Central in 2009. A decade later, it still has only two platforms, two pitlines and three stabling lines. It serves 18 terminating trains that run 38 services among them, an average of just 5 daily services! KCVL can also be called Schrodinger's Railway Terminal because according to the railways it is both saturated and is under utilised (at only 30% of its capacity) at the same time! What sense does this make? And it gets worse. It already has a third platform structure built and ready, but there is no track laid! There is also space for two more stabling and/or pit lines as well. They don't even have to acquire any land, but have to only lay the tracks! If all available space at Kochuveli were to be developed, they could run atleast three more daily trains and solve all parking problems immediately. But Trivandrum division refuses to send even a proposal and instead sits around blaming space crunch. Now they can also give the excuse of Nemom to not do any work at Kochuveli.
Railway Terminals in the Ernakulam Region (Trivandrum Division)
Ernakulam/Kochi is the commercial capital and Kerala's biggest city. It was also the state's railway hub until the Trivandrum division was inaugurated. Few long distance trains now terminate at Ernakulam, but it has a bigger role to play. Kerala desperately needs a suburban railway network and Ernakulam is best placed to be its hub. It has two old terminals now lying unused that can be easily renovated and reopened. There is also a detailed proposal for a new one.
The Ernakulam Old Railway Terminus (ERG) was built by the Maharaja of Kochi, Rama Varma XV in 1902 as the first railway terminal in Kerala. It declined with the opening of the Cochin Harbour Terminus in 1938 and was eventually abandoned sometime during the 1970s. The station premises are still under the ownership of the railways but are overgrown with jungle though the buildings still stand. The location happens to be in the very heart of the city, near the waterfront (Marine Drive), bus and ferry terminals and high-value commercial areas as such is made to order to be the focal point and node a suburban railway network for Kochi. If revived, it can turn out to be the Churchgate or Beach of Ernakulam, connecting it with all its northern and outlying islands including Kochi. But again, both Southern Railways and Trivandrum division do their best to subvert this. The GM/SR announced in 2013 that the station is "unfeasible" but large-scale protests and lobbying by representatives resulted in a 505-crore "Ernakulam Old Railway Station renovation program". They even laid new rails and sleepers until the station. But they also ensured the remaining lies ensnared in a bureaucratic tangle that sees no sign of resolving. The excuses range from "poor squatters" (encroachers) to environmental issues. It will now take a herculean effort to get this going.
"Old Railway Station-Kochi" by Vipin Jose from Flickr
Opened by the British in 1938, the Cochin Harbour Terminus (CHTS) was the busiest and most important railway station in Kerala for more than four decades. A similar series of circumstances to that befell ERG forced its decline and closure by 2001. After two decades of clamour from everyone from railfans to MPs SR renovated and reopened it for service. They then ran a three-coach DEMU up to Ernakulam (taking 45 minutes to cover nine kilometres) twice daily for a week. They then hastily discontinued it citing "poor patronage" and declared the station unviable for operations. They even managed to turn public sentiment against the reopening of the line by shutting a level-crossing gate for extended times. It does not require an Einstein to deduce that all this was by design. CHTS has an enormous yard that can easily accommodate atleast 10 pit/stabling lines. In the short term, passenger trains from Thrissur/Kottayam can be extended to CHTS, decongesting Ernakulam while also serving people commuting between the Island and the mainland. In the long run CHTS can be the maintenance depot for the entire suburban railway fleet and quite a number of long distance trains. But any of this happening is unlikely as Southern Railway refuses to reopen the station using the convenient excuse of the Navy disallowing electrification citing the Naval airport. They also refuse to come up a workaround as well because it suits their agenda.
The Ernakulam Marshalling Yard (ERM) terminal is proposed as a new greenfield railway terminus at the current location of the Ernakulam Marhslling Yard. But just than a terminal, the idea calls for a massive integrated transit hub built to European standards as the nerve-centre of central Kerala's transit infrastructure. It will have 14 tracks, 10 platforms, four stabling lines, associated station amenities, directly connected to the Vyttila Mobility Hub, Metro rail and water metro stations in close proximity. All long-distance trains can be shifted to this terminal. It will also be Ernakulam's suburban terminal from where local and regional trains will run to its neighbouring towns (Kottayam, Alappuzha, Thrissur) at cyclic intervals (Every 12 minutes, for example), and to Intercity destinations like Kozhikode/Kannur, Palakkad and Trivandrum, revolutionising intercity and daily commuting in Kerala's most heavily travelled corridors. Sounds amazing? The project was proposed four years ago complete with conceptual drawings but is still at that stage. Some at the Southern Railway headquarters allegedly played dirty games to thwart the project not just once but three times! They first didn't send the report to the Board, then reported the terminal is not feasible and then desperate to doom the project, blatantly lied saying the project requires land acquisition when none is required! But then the MP of Ernakulam Mr.Hibi Eden put his foot down and the railway minister Sri Piyush Goyal himself intervened and instructed the project be started. Forget the terminal, the marshalling yard has been waiting for a pit line to be fully constructed for the past seven years!
Railway Terminals of the Malabar Region (Palakkad Division)
The Malabar coast has since times immemorial supplied the Indian subcontinent with fame, glory and riches. It also hosted the very second railway line in South India. The Palakkad railway division which today administers the region is a textbook example of utter, mind-numbing, unending neglect. Atleast the Trivandrum division has some terminals and proposals to speak of, while all of Malabar, all five districts, do not have even one! Once one of the largest divisions in the country handling six large terminals, two loco sheds and a UNESCO-certified heritage railway line, the division has today been reduced to a single-line rump with just one terminal at Mangalore. It is probably the railway division with the least pit lines, the only one in the country whose HQ lacks a terminal and one in its own state or even an originating train to its state capital! While the five terminals in Trivandrum division are all official proposals, the stand of the Palakkad division is that it does not require terminals at all! This leaves it to us to make proposals.
Palakkad: The divisional headquarters without a terminus or even a pitline! Granted, the much bigger Coimbatore is just an hour away, but PGT can still complement it. Even if there were one pitline in Palakkad or nearby Palakkad Town it would've been helpful to run new trains towards Coimbatore or Ernakulam or Mangalore or even Madurai. It will cost less than 10 crore, which the General Manager of Southern Railway can approve without explicit board approval. You can imagine what chance that has of happening. Not even a proposal has gone from Chennai to the board regarding capacity expansion at Palakkad. Oh and Palakkad also has a MEMU shed which makes it a servicing location for local and MEMU trains. And how many MEMU services does PGT division have despite a fully electrified double line? Zero.
Kozhikode: This ancient city is the third largest of Kerala and lies at the mid point between Mangalore and Ernakulam. It is an enormous commercial and educational hub and for all intents, the capital of Malabar. It sees thousands of daily commuters and hence can be the hub of the Malabar regional railway system to run cyclic Kozhikode-Mangalore, Kozhikode-Palakkad/Coimbatore and Ernakulam-Kozhikode MEMU services. CLT already has the Jan Shatabdi terminating there, and could do with a couple more day intercity services. The terminal could be set up at Kallayi with minimal land acquisition, the goods shed there shifted to West Hill.
Kannur given its location as the center point of Northern Malabar is perfect for an express train terminus. It is currently the most viable in all of north Kerala in terms of land availability and long-distance passenger traffic. Kannur-Trivandrum is the most travelled overnight route in Kerala and it would be beneficial to use that to launch atleast three-five daily express trains and a maybe a weekly or two towards northern or eastern parts of the country. Kannur's stature as a terminus will become inevitable once any of the two northern cross-Ghat railway lines to Karnataka are realised. Kannur has currently three express trains terminating including a Jan Shatabdi that runs only five days a week. The clamour for a pitline at Kannur is decades old and teh building an approved fifth platform a long-running tamasha. Land is readily available and it even has a stabling yard.
Why No New Terminals Are Being Developed in Kerala
Southern Railway gives difficulties in land acquisition as the biggest excuse for railway projects of any kind not taking off in Kerala. Most proposals here, including the three big ones in Ernakulam have one thing in common: all the necessary land is already available with the railways. In total there is around 224 acres of railway land lying unutilised around Ernakulam alone! They can start work on the terminals tomorrow if they want to. Since nothing is forthcoming, it can only mean that they don't want to. This is because as long as new terminals are not built, new train services cannot be run in Kerala. Those shares of new trains, infra etc. can be hence diverted elsewhere. For this, the unavailability of the usual excuse of land acquisition problems forces them to become innovative twisting, lying, blaming, and altering reality. The overlords in Chennai sit there and decide that Kerala does not need any new trains and that's it. The neglect has become systematic and industrialised.
To expedite Kerala's railway development, all proposed terminals have to be started work immediately. If done properly they will all return investment in less than a decade. But instead we are now stuck in an immensely frustrating loop where Southern Railway refuses to start new trains saying terminal space is unavailable but at the same time refuses to build more terminal space! This is how a clutch of vested interests at the Southern Railway zonal headquarters and their lackeys at Trivandrum actively conspire to hold back development of the state and country through a series of well-thought out and executed schemes for subterfuge. These are the same spiteful, self-serving people who showed the finger to passengers by increasing running times of trains to "achieve punctuality" and serve their own interests. It is especially heartbreaking when there is so much that is ready to be achieved with minimum effort and cost and nothing is being done. It feels like a plate of food being placed in front of a hungry child but behind a pane of glass. Land, money, will, public support, everything is there for the taking! Still they won't and the people continue to suffer! Southern Railway just wants to take away the revenue generated from Kerala without giving anything else in return. As it is with everything else, only real, solid political will can help to get things moving. And the condition of existing stations is as pathetic as ever. More in the next chapter.
Other Chapters in the State of the Railways in Kerala Series