Announcements
Timetables
Unreserved (passenger) Trains Running in Kerala
A complete list and basic timetable of all restarted passenger trains in Kerala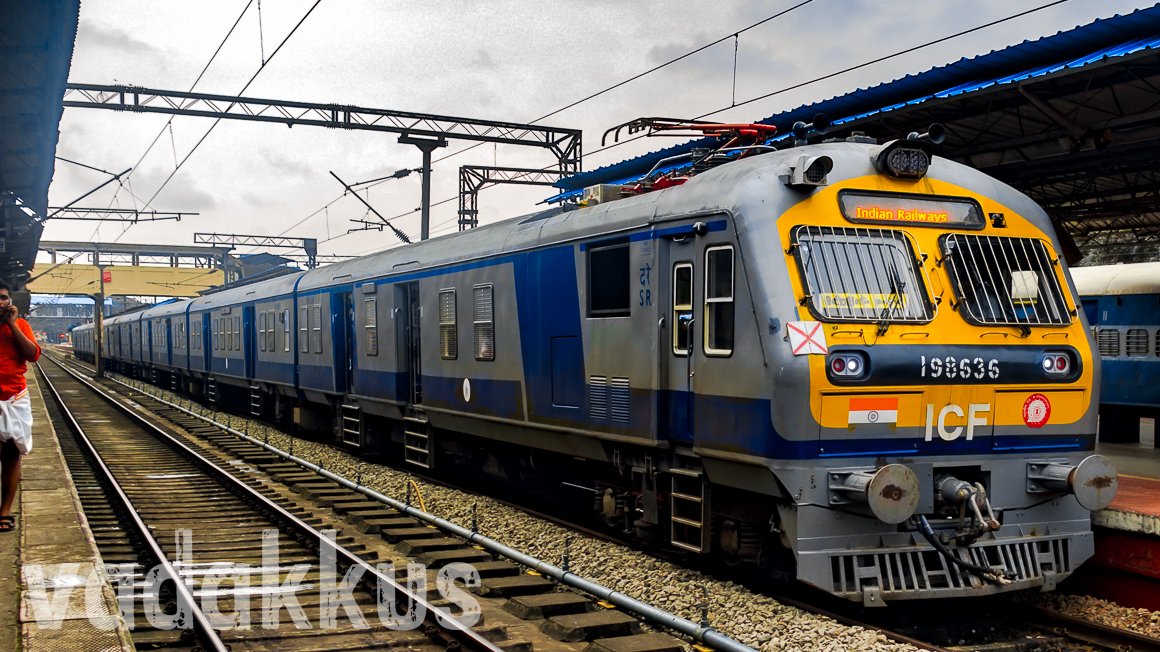 Southern Railway (SR) is restarting services of short-distance unreserved (passenger and MEMU) trains in Kerala in a phased manner as part of the plan to restart all trains that were running pre-pandemic. Most of the long distance and intercity trains running through Kerala that were stopped due to the COVID19 pandemic are already running normally.
This page gives you the list and basic schedules of all short-distance day-time trains with unreserved seating currently running in the Trivandrum and Palakkad divisions of Southern Railway in the state of Kerala (and a small length in Tamil Nadu and Karnataka). The trains given in this list includes all day-time commuter express trains (like Venad, Parasuram, Executive, Intercity, etc.), all MEMU train services and all (former) Passenger trains that are currently running.
The list will be updated as and when more trains are announced to be restarted. Please note that all the trains in the list are being run as express trains and all train numbers differ from the earlier passenger train numbers. Note: All trains in this list have started running. The timetables were updated on July 29.
All these trains given in the list have all or majorly unreserved (general) coaches. You can board all these trains with a general (unreserved) ticket purchased from a railway station during the day time (for example, from Kottayam to Ernakulam or from Trivandrum to Kollam or from Ernakulam to Thrissur or Kozhikode to Kannur). Reservation is not required for these trains though some have it available. Reserved tickets can be purchased at IRCTC.
Note that these lists do not include long-distance trains that are running with predominantly sleeper accommodation and may or may not have unreserved coaches attached to them. These are only the list of trains that you can directly board with an unreserved (UR) ticket, including passenger, MEMU and commuter express trains.
For a full list of trains please check IRCTC or NTES. You can also check the running status of trains on websites like NTES or Railyatri or on private apps like "Where's My Train".
Please also note:
Many trains that were previously running as passenger services have been permanently converted to Express category.
All restarted passenger and MEMU services are running as "Express specials" with Express train fare.
Newly restarted passenger train number are different from the old numbers.
Earlier "passenger" season tickets are still valid for use in these trains.
Unreserved tickets can be bought from the counters at railway stations, ATVM machines or via the UTS mobile app.
De-reserved sleeper coaches in long-distance express trains are not available yet.
Unreserved Sleeper class tickets (SLUR) for day time travel in Sleeper coaches are not being issued until October.
Stoppages differ for different trains. Click on the train number to view full timetable.
MEMU trains will stop at all stations en-route.
Day-time short-distance unreserved trains in the Trivandrum – Ernakulam sector
Nagercoil – Thiruvananthapuram – Kollam – Kayamkulam – Kottayam/Alappuzha – Ernakulam
Ernakulam – Alappuzha/Kottayam – Kayamkulam – Kollam – Thiruvananthapuram – Nagercoil
Stations served: Nagercoil Jn, Nagercoil Town, Virani Alur, Eraniel, Palliyadi, Kulitturai, Kulitturai West, Parassala, Dhanuvachapuram, Amaravila, Neyyattinkara, Balaramapuram, Nemom, Thiruvananthapuram Central, Thiruvananthapuram Petta, Thiruvananthapuram Kochuveli, Kazhakuttom, Kaniyapuram, Murukkampuzha, Perunguzhi, Chirayinkeezhu, Kadakkavur, Akathumuri, Varkala Sivagiri, Edava, Kappil, Paravur, Mayyanad, Iravipuram, Kollam Jn., Perinad, Munrothuruthu, Sathamkotta, Karunagapalli, Ochira, Kayamkulam Jn., /Mavelikara, Cheriyanad, Chengannur, Thiruvalla, Changanasserry, Chingavanam, Kottayam, Kumaranallur H, Ettumanoor, Kuruppanthara, Kaduthuruthi H, Vaikom Road, Piravam Road, Kanjiramittam, Mulanthruruthi, Chottanikkara Road, Thrippunithura/ Cheppad H, Harippad, Karuvatta H, Takazhi, Ambalapuzha, Punnapra, Alappuzha, Tumboli, Kalavur H, Mararikulam, Tiruvizha, Cherthala, Vayalar, Turavur, Ezhupunna, Aroor H, Kumbalam, Tirunettur/ Ernakulam Jn.
Day time short distance unreserved trains in the Ernakulam – Shoranur section
Nilambur – Shoranur / Guruvayur – Thrissur – Aluva – Ernakulam
Ernakulam – Aluva – Thrissur – Palakkad / Guruvayur / Shoranur – Nilambur
Stations served: Ernakulam Jn., Ernakukam Town, Idapalli, Kalamasserry, Aluva, Chovvara, Angamaly, Koratti Angadi, Divine Nagar, Chalakudy, Irinjalakkuda, Nellayi, Ollur, Thrissur, Punkunnam, / Guruvayur, / Mulangunnathukavu, Wadakkancherry, Mullurkarai, Vallathol Nagar, Shoranur.
Day time short distance unreserved trains in the Malabar sector
Coimbatore – Palakkad – Shoranur – Kozhikode – Kannur – Kasargod – Mangalore
Mangalore – Kasargod – Kannur – Kozhikode – Shoranur – Palakkad – Coimbatore
Stations served: Shoranur Jn., Karakkad, Pattambi, Kodumunda, Pallippuram, Perssannur, Kuttippuram, Thirunnavaya, Tirur, Tanur, Parappanangadi, Vallikunnu, Kadalundi, Ferok, Kallayi, Kozhikode, Vellayi, West Hill, Elattur, Chemmencheri, Quilandi, Vellarakkad, Tikkotti, Payyoli, Iringal, Vadakara, Nadapuram Road, Mukkai, Mahe, Jagannath Temple Gate, Thalassery, Dharmadam, Etakkot, Kannur South, Kannur, Chirakkal, Valapattanam, Pappinissery, Kannapuram, Payangadi, Ezhimala, Payyannur, Trikaripur, Chandera, Cheruvathur, Nileshwar, Kanhangad, Bekal Fort, Kotikulam, Kalanad H, Kasaragod, Kumbla, Uppala, Manjeshwar, Mangalore Central.
---
Information provided here is only indicative in nature. Please always confirm all information with official sources before relying on them. Contact your nearest railway station or call 139 or visit the official website of Indian Railways. This website is not an official website of the Indian Railways but is run by a railway enthusiast in no official capacity whatsoever. The official website of the railways is http://indianrailways.gov.in.