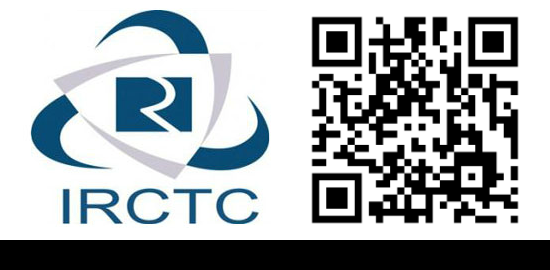 IRCTC has finally launched a website designed for mobile phones where people can book railway tickets (yes, including Tatkal tickets)  for Indian Railways' trains from their internet-connected mobile phones, using a browser. IRCTC's website had forever changed the way Indians book railway tickets (for a sample, it handled 11.7 million (1.17 crore) transactions in Jan 2011 alone). For the teeming masses of India who are without a fixed internet connection but are in possession of the now-ubiquitous mobile phone, this will be a small but bold step towards their liberation from unscrupulous agents, illegal touts, never-ending queues and hassles and arrogant staff. Of course, the service is notorious for its unreliability, with failed transactions and extreme frustration that is causes at 8 am every morning when half of the country logs in trying to book Tatkal tickets. As much as I feel that too, it should be commendable that they have come out with an initiative like this, especially given the state of most of the institutions in our country.
Booking railway tickets on the move has always been a hassle, and I had to run in search of Cyber Cafes in case of a sudden change in plans or a cancellation of a ticket. There are three third-party apps (NG Pay, Atom and Paymate) and Cleartrip's mobile website for booking railway tickets, but the payment systems involved, and the extra agent charges that we stand to lose in case of cancelled tickets are all impediments for smooth booking and cancellation. Also, these cannot be used to book tickets between 8am and 9 am. That is why this one was so widely awaited.
Note: The thing in question is a plain old website that is designed to work on a mobile phone and NOT an application or any software that has to be downloaded and installed. You just type the address of the site into your phone's browser and open it like any other website. Also, the mobile version is mobile-header locked, which means it WILL NOT open on a desktop/laptop computer browser. If you try to do, you will be redirected to the normal IRCTC site. Well, even if you could open it, it would be of no use because this site is just another interface or line to the same choked up IRCTC server. The mobile version does not have a server of its own. You would get just the same slow site that will not load.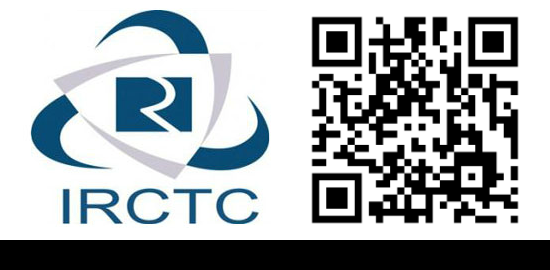 I tried the site as soon as the announcement came and as expected, given the track record of the desktop site, got an error that the webpage was not available. I tried at night around 2100 hrs again, and this time, the page loaded in a flash. Success! Woohoo!! I went ahead and tried booking a ticket just to get a feel of the site and to see how well it is designed, since I have a particular liking towards mobile-internet website design. The site is decently fast, even on my Vodafone GPRS phone. It did not crash even once during the entire booking process and responds quite well to inputs. The site is pretty basic and overall gives a no-nonsense feel. When it works.
Note: For general public information (especially to cynics and outragers), IRCTC Mobile is not intended to solve the Tatkal ticket problem or to just book Tatkal tickets. It is a mobile interface for IRCTC where you can book tickets at any time of the day. We need to find other ways to address the Tatkal problem. Also, this is just a website and not an application (app) or a software, it has not to be installed. You need to have a GPRS/Data/3G enabled mobile phone and a browser on it. Just open the browser (Opera/Or the bundled browser with the "Globe" icon) and type the address above. You can scan the QR code also, if your phone has that functionality.
First Impressions
This is one of the most professionally designed and easy to use mobile-websites I have come across in its class. Straight-forward and no-nonsense, IRCTC has clearly designed the site keeping in mind that people who access mobile internet websites for booking railway tickets do so when they are on the move (like, on a train) and possibly in a hurry and short on patience and hence need clean, straightforward, easy to use options and not stories for extended reading, links to everywhere and other whistles and bells. Your same account (User ID and Password) you created on www.irctc.co.in will work here also, but you cannot create an account using this website here.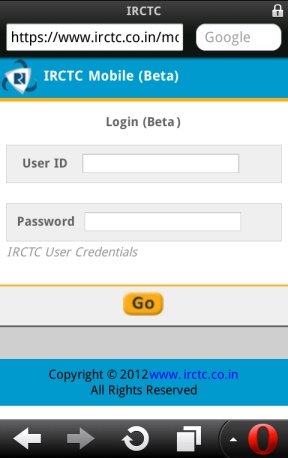 Design and Navigation – Frugal, No-nonsense Win!
The site is strictly utilitarian and the design is purposeful, devoid of all fancy images, animations, banners, advertisements, long lines of text, pop ups, links to information etc. In fact, it does not have any links on it at all! The pages are designed to get the job done and nothing else. There is a "home" option on every page, and a "back" button on every page as well. The navigation is always Next, Next, Next… Nowhere do you have to close a popup or go backwards to complete a step. The colors are standard IRCTC and give the site a no-nonsense look. A special mention should be given to the text fonts, boxes, buttons and links which are large and boldly marked, though they could have been larger. Regarding security and payment, all pages are secure browsing (https) and Note the "Padlock" on the right hand top corner.
Features – The Absolutely Necessary Only
It would not be wrong to say that IRCTC Mobile is a completely stripped down Spartan version of the IRCTC desktop site in terms of features, retaining only what is absolutely required for booking train tickets. There are only three services available:
Ticket Booking and Enquiry
Viewing history of booked tickets (PNR check included)
Cancellation of booked tickets.
Ticket booking and Enquiry options include Train Search between stations on a day for specified classes in General and Tatkal, Availability status and Train Route display. I think they have intentionally left out other sophisticated inquiry options since this is meant to be strictly a platform for ticket booking only. I guess they have decided to keep things at a minimum, which is good. They must have arrived at including these after analyzing what people use the site for. Your account will remain the same across the mobile and desktop sites, means you can cancel/view/print tickets taken at one place through the other.
Of Course, There are Shortcomings
You really can't expect this to be working all the time, can you? 🙂 When it does, the weakest link for most e-commerce sites, the payment feature, is the Achilles Heel here as well. The payment gateway is secure no doubt, but the loading , rendering and detail entry is cumbersome as it is not a mobile website but a standard desktop site. If you have a touch screen phone, you can pinch and zoom to enter the card details. For others, I guess you have to scroll back and forth. It remains to be seen how the 'not-so-sophisticated' browsers will render this page. A feature that is missing is the display of availability for the next few days, and I would suggest that they extend the option for accrual of points using the Shubh Yatra program to the mobile version also. And of course, this does not work early mornings at 8 am because of high load. But then again, won't you be using the desktop at 8 am? Also, a FAQ or Help could do as well. And you still have to go to the desktop to take a print. Of course.
Why is there no app for this?
IRCTC has confirmed that they will be coming out with apps also and everyone is going gung-ho, only for the snob value though. Which is why it will remain to be seen how much the uptake for that will be because the app-using market would rather take to the air than take the train. And most smartphoners are addicted to apps and rarely use the browser anyway, I would say that it is good that they have come out with the site first rather than the app, because an app would negate the advantage to all the millions of non-iPhone/Android/BB users, unless they come out with an app for Symbian phones, which has as much chances of happening as the Island Express running on time and empty. Also, an app will have its restrictions too, it would have to contact external websites for payment etc.
A good step, the site is still in the Beta version (and decidedly will remain so for a long time). I hope they will solve the capacity and bandwidth problems soon, and extend some more features to this. In the meantime, as a start, I believe this is a great job, kudos to everyone involved!
Still, I wish everyone all the best while booking Tatkal tickets.
Next: How to book a train ticket using the IRCTC mobile website.