Timetables
Konkan Railway's Monsoon Time Table for 2013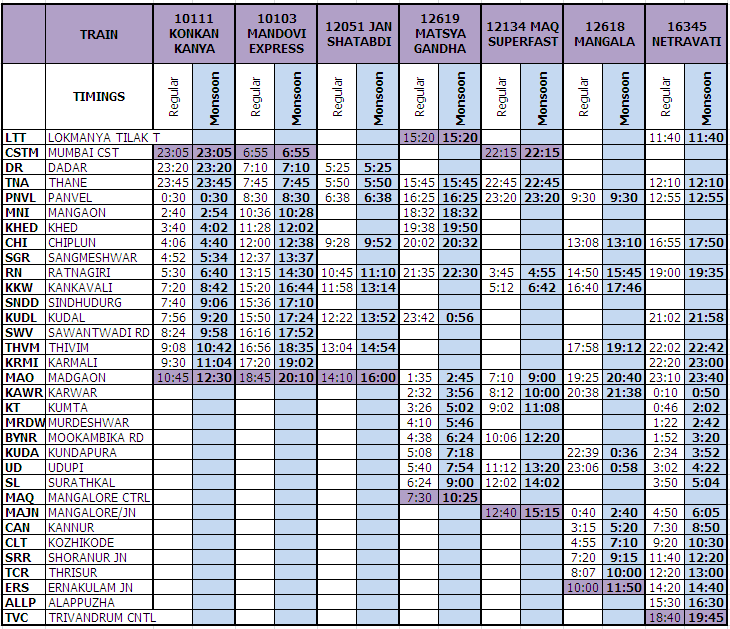 Konkan Railway (KR) changes the timing of trains running though the Konkan Railway every year from Jun 10 to October 31. This is called the "Monsoon Timetable which was introduced because the monsoons with heavy rains is often followed by flash floods, landslides, tree uprooting etc on the highly volatile and geologically sensitive landscape that is the Konkan Coast. To prevent any untoward incidents, trains are run at reduced speeds on the Konkan track and the timetable of trains is altered to match these speed restrictions. The Konkan Monsoon timetable shlws almost all trains taking 2-3 hours extra to traverse the route as they will be running slowly. This year also, as per "tradition", the timings of almost all trains running on the Konkan route will be changed as follows with effect from June 10 2013:
The 2013 Konkan Railway Monsoon Timetable
For the seven daily express trains on the Konkan Railway towards Mumbai
The 10112 Madgaon (Goa) – Mumbai CST Konkankanya Express will leave Madgaon 2 hours 45 min earlier at 4:45 pm instead of 6 pm to reach CSTM at 5:50 in the morning (no change). It will arrive at all its stations upto 2.5 hours earlier than it does now.
The Kanya's twin 10104 Mandovi Express will leave MAO one hour earlier than it does now, at 830 in the morning, to reach Mumbai VT at 2140 in the evening. It will arrive at all its stations earlier than it does now.
The 12052 Jan Shatabdi will leave 2 hrs 20 min earlier from Madgaon, at 1210 at noon as opposed to 2 30 in the afternoon now. It will reach Mumbai Dadar at 11 05 pm as it does now and will arrive at all its stations around 2 hours early.
The 12620 Matsyagandha Express will leave Mangalore for Mumbai 1 hr 45 min earlier that the current timings, at 12 50 pm instead of 2 35 pm and will reach LTT at 6 35 the next day morning as it does now. It will arrive at most of its stations 1-1.5 hours earlier.
The 12134 Mangalore-Mumbai Superfast sees almost a total timetable change thanks to the Monsoon timings. It will leave Mangalore Jn at 4 45 pm instead of 2 pm (later than its present timings as opposed to its counterparts) and will reach Madgaon at 2150 instead of 1850 as it does now. It will further slow down to reach Mumbai the next day only at 1030 instead of 0425 as it does now, taking a whopping 17 hours! It will arrive around 3 hours later than it does now at all its stations.
The daily 12617 Ernakulam – Delhi Nizamuddin Mangala Lakshwadeep Express will leave Ernakulam two and a half hours earlier at 1045 and not at 1315. It will reach Trissur at 12 noon, Shoranur at 1 pm, Kozhikode at 3 pm, Kannur at 5 pm, Kasargod at 6 20 pm and Mangalore at 7 40 pm. Then on it will be running two hours early compared to the present timings but they will equalize by the time it reaches Panvel at 1 pm as it does now.
The 16346 Trivandrum – Mumbai LTT Netravati Express will have no change in its timetable from Trivandrum to Mangalore. After leaving Mangalore at 1130 pm as it does now, it will run slower so it will arrive at Konkan stations at timings later than what it does now. It will leave Madgaon at 5 55 pm and reach LTT at 6 pm.
In addition, the 11004 Sawantwadi Road-Dadar Daily Rajyarani Express will leave SWV 50 minutes earlier, ie at 1730 instead of 1810 as it is now.
The Table below gives the 2013 Monsoon Timetable for the Konkankanya, Mandovi, Jan Shatabdi, Matsyagandha, CSTM Superfast, Mangala and Netravati Expresses. The old timings or regular non-monsoon timings are given side by side for comparison.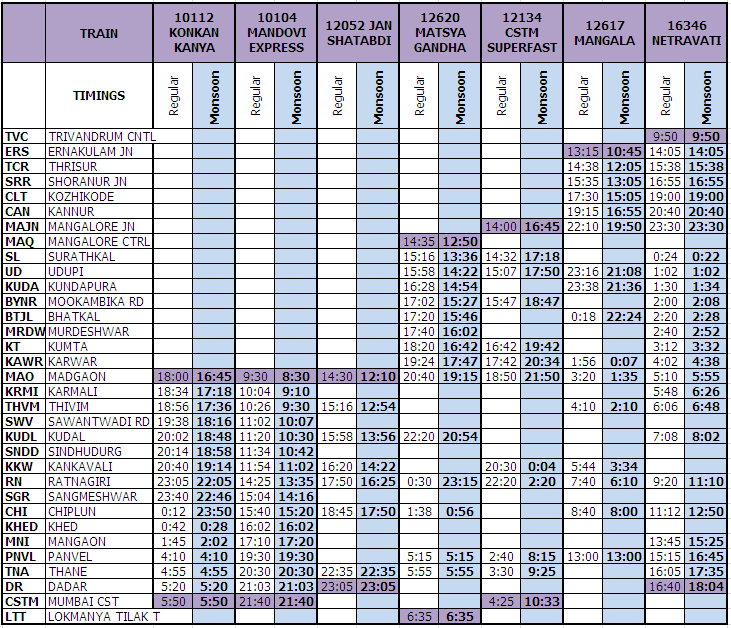 The table only gives information about important stops: Trivandrum Central, Ernakulam Jn, Trissur, Shoranur Jn, Kozhikode, Kannur,  Manglaore, Surathkal, Udupi, Kundapura, Mookambika Rd, Bhatkal, Kumta, Madgaon, Thivim, Sawantwadi Road, Kudal, Kankavali, Ratnagiri, Chiplun, Khed, Mangaon, Panvel, Thane, Dadar, Mumbai CST and LTT. For all station details on the Konkan like Mulki, Barkur, Murudeshwar, Gokarna, Ankola, Cancona, Karmali, Pernem, Sindhudurg, Sangameshwar, Vaibhawvadi etc and timetables for them, please click on the links with the train names. Click on the image to download the Monsoon timetable.
Click here for the 2013 Monsoon timetable on Konkan Railway the the seven daily trains starting from the Mumbai side. Please not that the departure time of any train from the Mumbai side has not changed. The timings will be stretched as the trains move southwards, arriving at Mangalore around 1.5 to 2 hours later.
Daily commuters/office goers from Kerala please note that the Mangala Express from Delhi to Ernakulam will run two hours later than it does now arriving Kannur at 0520, Kozhikode at 0710, Shoranur at 0915, Trissur at 1000 and Ernakulam at 1150 only instead of 1000 now. The Netravati Express also will run one hour late compared to how it does now, reaching Trivandrum only by 7 45 pm.
Other than the ones mentioned above, no trains starting from Kerala or from Mangalore will have their timings changed.
Timing Changes in the 2013 Konkan Railway Monsoon Timetable for Non-Daily Trains:
The 12449 Madgaon – Delhi Nizamuddin Goa Sampark Kranti Express will leave Madgaon only at 1225 instead of 1120.
The 12431/2 Rajdhani Express has also been slowed down considerably on the Konkan stretch. Updated timetable is given below. It reaches Panvel at 8 50 pm instead of 6 10 pm
12431 TVC-NZM RAJDHANI
TVC
ERS
TCR
SRR
CLT
CAN
MAJN
UD
KAWR
MAO
RN
PNVL
19:15
22:30
23:50
0:45
2:10
3:35
5:50
6:58
9:10
10:20
13:55
18:10
19:15
22:30
23:50
0:45
2:10
3:35
5:50
6:56
9:52
11:05
15:10
20:50
The 16337/16338 Okha-Ernakulam Bi-weekly express which will run only till Hapa and will not go to Okha (Gujarat).
10215 Madgaon-Ernakulam Superfast will leave Madgaon half an hour early, ie 2100 hrs instead of 2130
All trains running on the KR will have timings adjusted by 30-45 minutes. Please check with stations for confirmation.
More timetable changes for weekly trains running on the Konkan Railway:
2013 Monsoon timetable for the 16312 KCVL-Bikaner, 16336 NCJ-Gandhidham, 16338 ERS-Okha (Hapa), 19259 KCVL-Bhavnagar and 16334 TVC-Veraval, 12977 Ernakulam – Jaipur Marusagar, 12997 Tirunelveli – Hapa, 12209 KCVL-LTT Garib Rath, 12287 KCVL- Dehra Dun, 12483 KCVL- Amritsar, 12217 Kerala Sampark Kranti ands 22149 Ernakulam-Pune Expresses: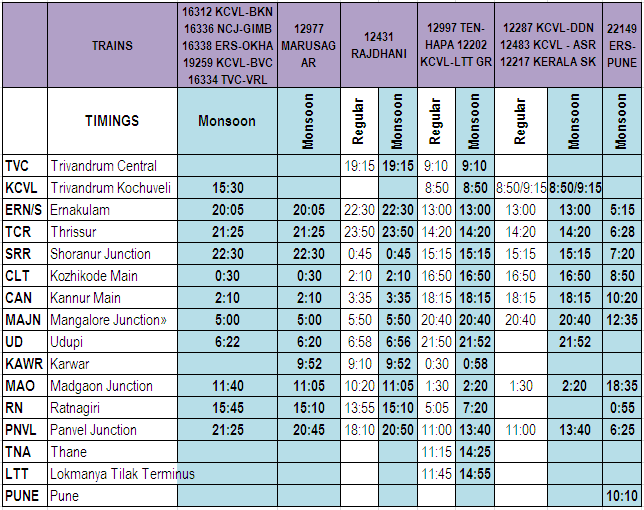 Official communication from Konkan Railway
You will be spending more time traveling thanks to the Monsoon Timetable, but it will be totally worth it! The Konkan is simply mesmerizing during the monsoons. Make the most of the slow running trains and take in as much of nature as you can! Konkan Railways are to be treated as an experience and not a commute.
DISCLAIMER: This is NOT an official website of the Indian Railways nor is this a communication by the Indian Railways or Konkan Railways and is meant for information purposes only. Always check with an official source for exact timing and running status. The official websites of Indian Railways are http://indianrailways.gov.in and http://indianrail.gov.in. Konkan Railways official website is Konkanrailways.com For ticket ticketbooking try http://irctc.co.in
NOTE: Timings are already appearing as updated in IRCTC.