Kerala is a great state where it is easy to swindle anyone and make money, easy to migrate from, easy to make new-generation movies, easy to tie and untie the lungi, easy to get drunk and easy to crack Mallu jokes. But what is not easy here is traveling. By any means. Kerala is more like a city than a state with important towns located every ten kilometers or less. This makes long distance commuting a nightmare as much as it is within towns and cities. The state of road connectivity in the state is utterly pathetic with overcrowded, jammed, narrow and crumbling 2 lane "highways" and other roads, where you cannot find an empty stretch of more than 500 meters. Unsurprisingly, the railways as the chosen way of commuting. Unfortunately, the railways are also proving to be utterly insufficient as well thanks to unscientific running of trains, given the state's peculiar situation of having populations distributed almost evenly throughout the state.
Notional Highway, Kerala (NH47 Thrissur – Palakkad)
Instead of running dedicated Intercity commuter trains, the Railways follow the same strategy of running weekly long distance trains through the state during the daytime. Hapless passengers are forced to travel short distances in overcrowded general compartments of long-distance express trains. This is especially pronounced in the Ernakulam – Thiruvananthapuram sector. During the high-sun hours of noon and afternoon, there are no viable trains to cater to the traveling needs of people of central Kerala, except for the long-distance Island Express and the ultra long-haul Kerala Express which have only five general compartments between them. These and even the Sleeper coaches are unimaginably crowded with Intercity passengers making even short distance traveling an ordeal for both short and long distance passengers. To take passenger load off long-distance trains, there should urgently be new Intercities introduced between two largest cities of the state.
Currently, there are four dedicated intercity trains between Ernakulam and Trivandrum: the Venad, Vanchinad, Intercity and two Jan-Shatabdis, in addition to the long distance intercities, Ernad and Parasuram. But being a largely small-scale entrepreneurial and migrant state with people constantly on the move, Kerala does not really have an office-going rush hour culture, which makes the traveling crowd equally big during non-office hours as well. There are big gaps between trains running during the day time.  There are only 4 daily trains in all between Ernakulam and Trivandrum between 1000 and 1600! the Kerala, Parasuram, Sabari and Netravathi Expresses and only one (Parasuram) among them is an Intercity! The other three are long-distance trains and are used as commuter trains by the local populace at the cost of long-distance travelers. NOTE: Of course there are weekly trains running, but those are hardly practical for Intercity travel since they are not regular and mostly run late. But even then, there is not even a weekly between 10 am and 1 pm on Thursdays.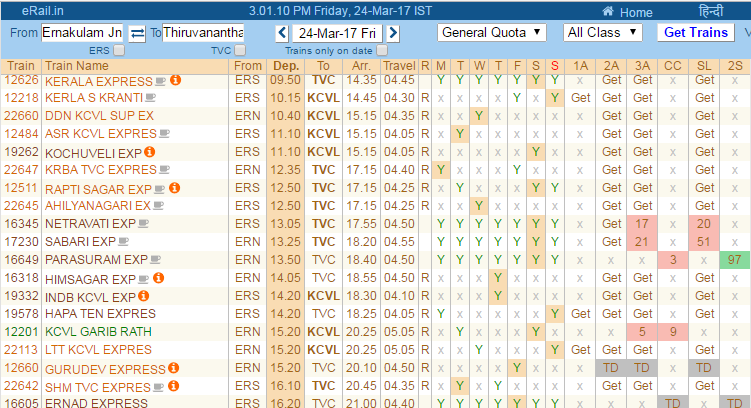 From Ernakulam to Thiruvananthapuram
There is a gap of three hours in the morning after the Kerala Express leaves Ernakulam for Trivandrum, and then there is another huge gap of 4 hours in the evening between 1715 and 2135 in the evening after the departure of the Jan Shatabdi Express. These are the gaps that are to be filled to take the load off the crawling Island Express for people of central Kerala to travel, and for connectivity during the evening from Ernakulam to Trivandrum after the Jan Shatabdi leaves. For example, if you want to travel from Kottayam to Kollam after 1130, you have to wait until the Parasuram arrives at 3 pm!
From Thiruvananthapuram to Ernakulam
The Kerala Express leaves Trivandrum at 1115 and the next daily express train is only the Island Express at 1245, and the Chennai Mail at 1430. Here, the crowd in the Kerala express is worse than that of the Island, and a daytime train reaching Ernakulam in the late afternoon is simply just too necessary! This is the first gap that has to be filled. The other train that is required is a connectivity from the state capital to Ernakulam in the morning via Alappuzha, twin of the Venad and opposite of the Guruvayur – Trivandrum Intercity. Currently, there is only the limited-stop Jan Shatabdi catering to this route.
Proposed Timetables of the New Intercity Expresses
16353/16354 Trivandrum – Ernakulam – Trivandrum Intercity Expresses (via Alappuzha)
16353 Trivandrum Central – Ernakulam Jn Intercity Express
16354 Ernakulam Jn – Trivandrum Central Intercity Express
Thiruvananthapuram Central
6:05
Ernakulam Junction
18:30
Thiruvananthapuram Pettah
6:10
6:12
Turavur
18:49
18:50
Kazhakuttam
6:20
6:22
Cherthala
18:59
19:00
Varkala Sivagiri
6:43
6:45
Mararikulam
19:14
19:15
Kollam Junction
7:20
7:25
Alappuzha
19:30
19:35
Sasthamkotta
7:39
7:40
Ambalappuzha
19:45
19:46
Karunagappalli
7:49
7:50
Harippad
20:03
20:05
Kayankulam Junction
8:05
8:07
Kayankulam Junction
20:23
20:25
Harippad
8:29
8:30
Karunagappalli
20:39
20:40
Ambalapuzha
8:49
8:50
Sasthamkotta
20:49
20:50
Alappuzha
9:09
9:10
Kollam Junction
21:05
21:10
Mararikulam
9:24
9:25
Varkala Sivagiri
21:34
21:35
Cherthala
9:39
9:40
Kazhakkuttam
21:59
22:00
Turavur
9:49
9:50
Thiruvananthapuram Pettah
22:09
22:10
Ernakulam Junction
10:25
Thiruvananthapuram Central
22:45
This train can give good connectivity between Ernakulam and Trivandrum via Alappuzha in the mornings and late evenings for office commuters and students. Will run opposite of the Guruvayur – Trivandrum Intercity and as the twin of Venad.
Slot for 16353 is a bit tight, as the Jan Shatabdi departs at 0600, and the Rapti-Ahilya-Korba set takes up the 0610 slot. The weeklies can be shifted to a 0630 slot (vacant) which will leave daily commuters out of the hair of long distance passengers.
16354 will have an open and free slot as there are no trains to hinder its run, but for the passenger that leaves at 1800 which it will encounter at around Alappuzha. An overtake can be configured at Ambalapuzha
16355/16356 Trivandrum – Ernakulam – Trivandrum Intercity Expresses (via Kottayam)
16355 Trivandrum Central – Ernakulam Jn Intercity Express
16356 Trivandrum Central – Ernakulam Jn Intercity Express
Thiruvananthapuram Central
12:00
Ernakulam Junction
11:30
Varkala Sivagiri
12:34
12:35
Trippunithura
11:40
11:41
Kollam Junction
13:00
13:05
Piravam Road
12:04
12:05
Karunagapalli
13:29
13:30
Ettumanur
12:24
12:25
Kayankulam Junction
13:48
13:50
Kottayam
12:38
12:40
Mavelikara
13:59
14:00
Changanasserry
12:59
13:00
Chengannur
14:14
14:15
Tiruvalla
13:14
13:15
Tiruvalla
14:24
14:25
Chengannur
13:24
13:25
Changanasserry
14:39
14:40
Mavelikkara
13:39
13:40
Kottayam
15:03
15:05
Kayankulam Jn
13:50
13:52
Ettumanur
15:14
15:15
Karunagappalli
14:09
14:10
Piravam Road
15:34
15:35
Kollam Junction
14:33
14:35
Trippunithura
15:59
16:00
Varkala Sivagiri
15:04
15:05
Ernakulam Junction
16:25
Thiruvananthapuram Central
16:05
This train will provide mid-day connectivity to central Kerala. Also, 16355 can provide as a connection to the Ernakulam – Bangalore Superfasts which leave ERS at 1700.
Slots: Currently, the 06336 Guwahati Special runs in the proposed slot of 16355. Proposed slot for 16356 is available and empty, as there is no train from Ernakulam to Trivandrum via Kottayam between 1040 and 1235.
Whenever the case of new trains for Kerala is raised, the Railways will start crying about three things:
Overcrowded tracks with no slots to run the new trains
No rakes (coach sets) to run the new trains
No space in the form of pitlines, maintenance facilities etc to house the new trains in the end stations
In this case however, none of these apply. Slots are available in plenty as we have seen, and if they are now utilizing these empty slots for track/OHE maintenance etc, well, they will have to create a window. And as far as rakes and pitlines being unavailable to run these trains, the schedule of these two trains actually will help to solve those problems! How? Explained below:
The best part of introducing these two new trains is that they will need only ONE new rake to run both these trains! And these trains will actually free up one pit lane in Trivandrum Central for the entire day. This magic can be achieved by judiciously utilizing the existing rakes of the 16303/04 Ernakulam – Thiruvananthapuram Vanchinad Express. Currently the Vanchinad arrives at TVC at 0945 in the morning and leaves for ERS at 1750 in the evening. For the entire day, for 8 hours, this rake lies idle in the yards of Trivandrum Central, being of no use to anyone except crows and stray dogs. The rake of this train and a new rake can be given RSA between them to run the three trains. This will not only free up a pitlane in TVC during the day time but also will ensure maximum utilization of the existing rake resource, the wastage of which is criminal. In fact, this entire idea on running these two new Intercities was worked out on an idea of how to efficiently utilize the rakes of the Vanchinad. This is how it works on any given day:
The existing rake of the Vanchinad Express (OLDRAKE)
Leaves ERS at 0500 as the 16303 and arrive at TVC at 0945. Leaves TVC at 1200 as 16355 to reach ERS at 1625. Then leaves ERS at 1830 as 16354 reaching TVC at 2230, where it is stabled and starts next day as 16353.
The new rake that will be allotted (NEWRAKE)
Leaves TVC at 0605 as 16353 and arrives at ERS at 1025. Then leaves ERS at 1130 as 16356 to reach TVC at 1605. Finally leaves TVC at 1740 as 16304 Vanchinad Express arriving ERS at 2230 where it is stabled and leaves next day as 16303 in the pattern described above of the OLDRAKE.
So OLDRAKE and NEWRAKE will alternate their schedules everyday, running six services everyday using two rakes, working magic like Mandrake.
Coimbatore – Trivandrum – Coimbatore Jan Shatabdi Express
Coimbatore is not just the second most important city in Tamil Nadu, but it is also a very important destination for people from Kerala thanks to the industrial hub it is and the zillion number of students there from Kerala. Coimbatore has a dedicated daily Intercity Express to Mangalore via North Kerala (Malabar) but its connectivity to South Kerala is sketchy at best. There are no dedicated trains between Trivandrum or Ernakulam and Coimbatore, be it overnight or Intercity, and commuters are again left at the mercy of the Island and Kerala Expresses. The first thing that would come to one's mind would be to ask for the introduction of a new Intercity Express between Coimbatore and Trivandrum, but that would be practically difficult as of now given the congested tracks in Kerala. To balance both, another more efficient solution could be worked out which balances both worlds.
Instead of introducing a whole new train, the new train can be run combined with the 12081/82 Kannur – Trivandrum – Kannur Jan Shatabdi Express. The train can be split into two at Shoranur with one part going Coimbatore and another to Kannur as two different trains while running as one train from Trivandrum to Shoranur. This JS is not as popular as the other one, and this one can be given convenient timings to and from Coimbatore.
Tentative Timings: Coimbatore – Trivandrum Jan Shatabdi: Departs CBE at 0600 and Palakkad at 0700 to arrive at SRR at 0740. Departs Shoranur at 0755 after being attached to 12081 to proceed to TVC on timings of 12081 via Kottayam. Trivandrum – Coimbatore Jan Shatabdi: Departs TVC at 1420 along with 12082 and proceeds to Shoranur on timings of 12082 via Kottayam. Reaches SRR at 2010 and leaves at 2020 as a separate train after being detached from 12082. Departs Palakkad at 2105 and arrives at CBE at 2220. No extra rake, no extra space, nothing required. The slots are free and available. And this, again, will take lots of load off the Island Expresses and saves time, breath and sweat for commuters.
Here are some other suggestions Kerala should demand for in the next railway budget.
The Railways are Kerala's only hope for fast and comfortable travel times. Hopefully, some of these things would come true in the near future. If only!
PS: I have registered this suggestion on the PG Portal. I hope something comes out of it.