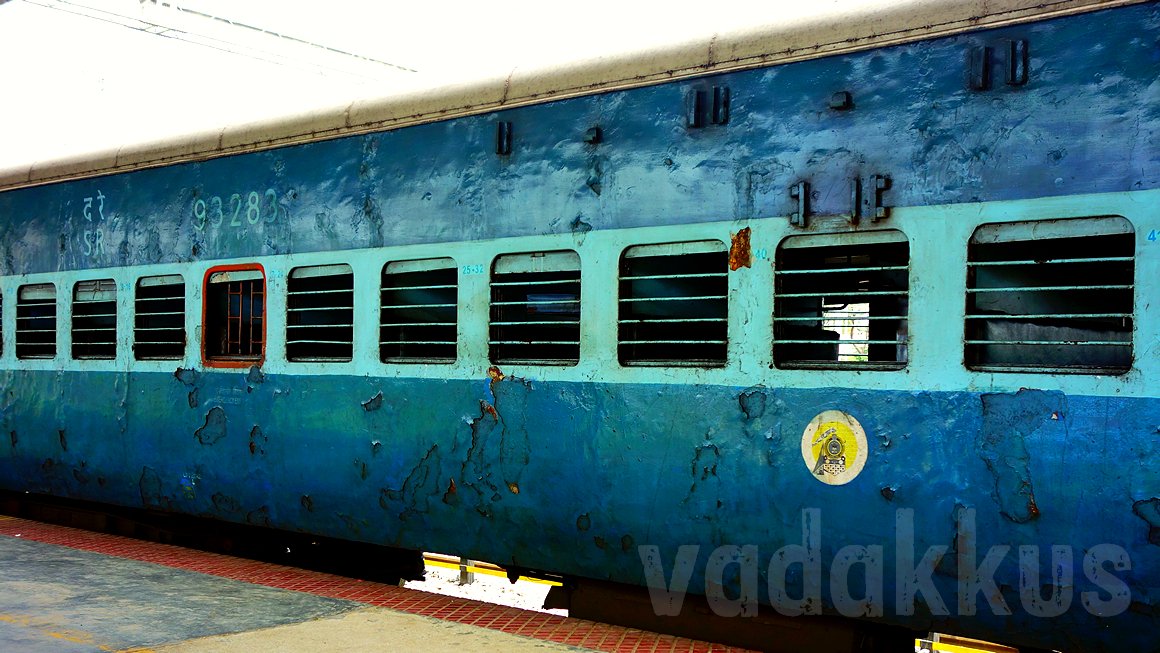 Southern Railway had announced that they would run the "Premium", now renamed Suvidha special train on the same kickass timetable of the 22657/8 Trivandrum – Bangalore City – TVC Premium that was announced in the 2014-15 railway budget to on August 30 2015 Sunday, the day when all Mallus would be returning to Bangalore after Onam holidays. The train would supposedly cover the Trivandrum – Krishnarajapuram distance in just 13.5 hours, 3 hours less than the currently fastest train on the route, stopping only at Chengannur, Kottayam, Ernakulam Town, Thrissur, Erode and Bangarapet. Seeing the timetable, I decided to make my return journey after the Onam holidays by this 00611 "Suvidha" Superfast kickass awesomeness Onam special, maybe it would have an awesome run? And after the news controversy about a LHB rake growing creepers at Kollam yard and the subsequent arrival of missing EOGs, I hoped against hope that the train would consist of that rake, and we would have a awesome run. I would be boarding from Kottayam KTYM. So this is how it went.
00611 Trivandrum Central TVC – Bangalore Krishnarajapuram KJM "Suvidha" Superfast Onam Special (SR)
Timetable: Departs TVC at 1900 (Sun), arrives KJM: 0830 (Mon). 13:30 hours. 831 km, 62 kph.
The 00611 Suvidha special departed from TVC 13 minutes behind schedule at 1913 and hit the ground running! Taking advantage of it having no stoppages anywhere, it chased down the 16629 TVC-MAQ Malabar Express that had departed TVC at 1830 and closed the gap of 43 minutes between them to just 10 minutes by the time it had reached Varkala VAK, when Malabar was at Paravur PVU (next station). I expected it to overtake the Malabar even before Kollam QLN and then would blast ahead! But then something happened and 00611 which left PVU at 2015 was detained somewhere and could pass QLN only at 2039, taking 25 min to cover the 12 km distance. It was now late by 40 min! But then the Trivandrum division blessed us with their controlling skills and the special left Malabar in the dust, overtaking it at Karunagapally KPY at 2040!
Scenes at Kottayam KTYM
Meanwhile at Kottayam the 12696 TVC-Chennai MAS Superfast had arrived behind Royapuram RPM WAP7 #30417 at 2050, 35 minutes behind schedule. And the 2 hours late running 12508 Guwahati GHY-TVC Superfast arrived simultaneously behind ED WAP4 #22903. The jam-packed MAS SF left after 5 minutes while 12508 continued waiting for another half an hour for the 16304 TVC-ERS Vanchinad express which arrived 35 min late at 2120 with rearview-mirrors fitted ED WAP4 #22602. And then came this announcement over the PA system:
"Attention please, Anil Kumar from Kollam, if you are here anywhere at the station premises, please call your wife urgently on her mobile phone. She and child have reached Kollam railway station."
Astounding! This is certain #WIN, how the railways are transforming into a customer friendly organization! The efforts of the Railway Minister Mr. Suresh Prabhu is certainly seeing success! Great work!!
Meanwhile, the 6.5 hour late 06336 Kochuveli KCVL-Guwahati GHY special (travels 3627 km, taing 4 days) hauled by Kazipet KZJ WAG7 26713 "Tigerface" arrived and left KTYM at 2151 and surprise surprise, was completely empty! All this time, the special was flying! It passed Kayankulam KYJ at 2111, Mavelikara MVLK at 2122 to reach and depart Chengannur CNGR at 2135, 55 minutes behind schedule. It overtook the poor 56366 Punalur PUU-Guruvayur GUV "Tsunami" Passenger at CNGR, which was waiting there since 2108. The special continued ahead, passing Tiruvalla TRVL at 2150 and Changanasserry CGY at 2158, finally arriving at Kottayam at 2215, a full hour behind schedule.
On Board the 00611 Suvidha Special
My hopes of traveling in the brand new LHB rake crumbled to dust as I saw the hastily-clubbed together ICF rake with its old, pathetic, dirty and pock-marked coaches, many of which were made in the early 1990s! There were a couple of NFR and one WCR coaches among the remaining SR coaches. The loco was KZJ WAG7 #27865, a goods loco for a supposedly high speed service! Not even a WAP4 🙁 The loco was not just all rusted and dusty and performed pathetically lacking acceleration, power and speed. There were no coach numbers or destination boards on the coaches and I boarded one of the two AC 3 tier coach on a hunch that it might be B1, and it was. People were running helter-skelter unable to find their coaches. There was no coach position announcement made as well. The coach, a 2004 make, was very clean (though it smelled weird), with bedrolls already placed on the seats. The toilets were dry but smelly. The train left at 2220.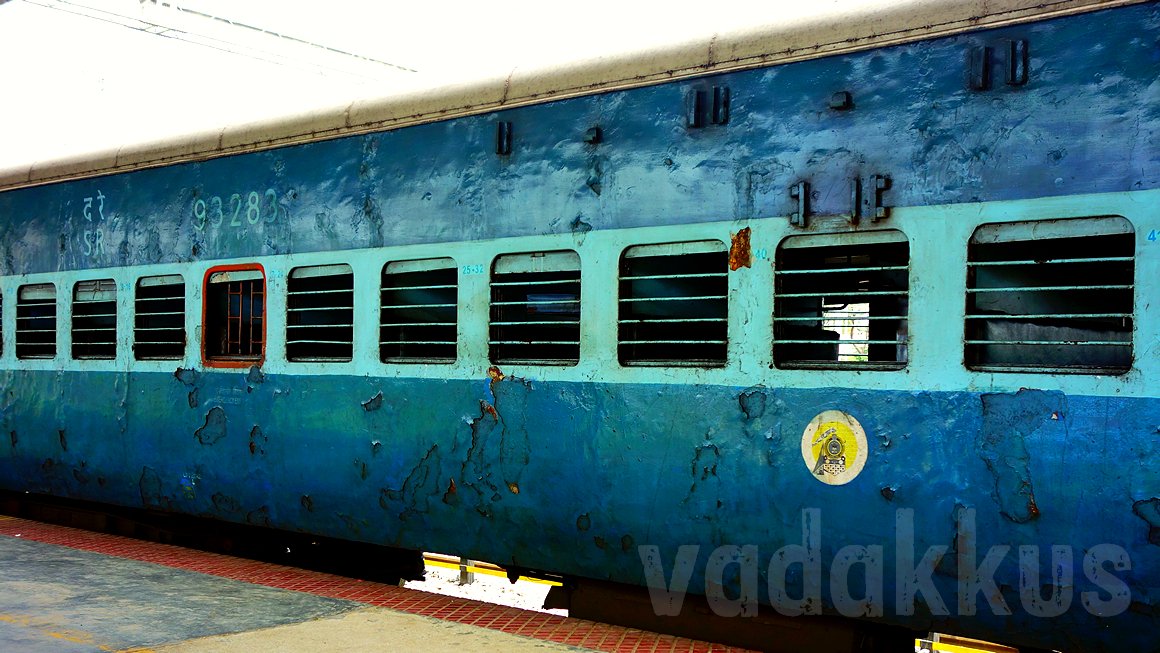 Pretty soon we were past Vaikom Road VARD where we crossed the 2 hour late Ernakulam – Kottayam passenger. We crossed Trippunithura TRTR at 2318 and it almost looked like we were all set to reach Ernakulam North ERN at 2330, maintaining our late-running at one hour. But that was not to be. Just before the Ernakulam D Cabin, a BTPN (tanker) which moving was parallel to us on the Irumpanam line was allowed to go ahead while we were stopped dead! 8 minutes later we moved a bit and stopped again for 4 minutes, and then again at ERN home for a whole 10 minutes! We finally crawled into ERN at 2252, a whole 1 hour 24 minutes late! Those 24 minutes were lost because they decided to send the tanker ahead! And what is even more outrageous is that I found the same damn tanker parked on the mainline at ERN, its twin UBL EMD locomotives shut down!! What the hell!? Trivandrum division after allowing two overtakes, had failed us 🙁
We left Ernakulam ERN at 2357, 1:30 hours late. Passed Aluva AWY at 0017, Chalakudy CKI at 0038 and Irinjalakuda IJK at 0043 to arrive/leave Thrissur TCR at 0107/0109, now 1 hour 49 minutes late! We crawled along the curves of the Trivandrum division and finally reached the handover point to Palakkad division at Vallathol Nagar VTK, just before the Bharathapuzha bridge, at 0140. Then we had to wait there for 10 minutes until the 11097 Pune – Ernakulam Poorna express coming in from Shornur on the same 'A' track we had to take, crossed us. We passed the Shoranur B cabin at 0154 and started running somewhat fast. I slipped into slumber on the hope if that run were maintained, we could maintain the late running at one hour with no more further losses.
When I woke up we were coming to a halt at Podanur Jn. PTJ at 0340 after a good run from SRRB (2 hours is the norm). With a sinking feeling I realized that there wouldn't be a Palakkad – Erode nonstop run, on which I was pinning my hopes on to make up atleast some time. Now under the control of Salem division, we were post at PTJ for a whole 25 minutes waiting for the 12601 MAS-MAQ "1 Mail" which also skips CBE to clear the single line IGU bypass and arrive at PTJ. Meanwhile, the 16527 YPR-CAN and 16526 SBC-CAPE Island (incidentally both coming from Bangalore) crossed over from the CBE line and crossed us. We left PTJ at 0405, at which time when we should've been well past Erode ED, to reach which we still had 100 km to cover. Thanks to this controlling, I knew it was all hopeless now and went to sleep.
We reached ED at 0542 and left at 0600, again after being held up for 20 minutes, now 2 hours and 10 minutes late. We passed Salem SA at 0700, which was when I woke up and saw the prickly-brush Tamil Nadu countryside sliding past at 75 kph in the morning sun. We were still two hours late. We reached Tirupattur TPT 0817, where the next shock came in the form of a 5 minute unscheduled halt for a crew change! Then we crawled all the way to Jolarpettai A cabin JTJA, which we reached at 0834 and then were again halted for 12 minutes to let the 12007 Chennai – Mysore Shatabdi pass. We started at 0847 and finally were out of Salem's division's ridiculous controlling, the reason why we were this late, and into SWR and Bangalore division.
We were 2 and a half hours late now and people were hungry, angry and frustrated. The train meandered along at 60 kph around the hills and valleys of the JTJ-BWT section, in no seeming hurry whatsoever. Just before Banagarapet BWT the 12608 SBC- MAS Lalbagh Express crossed us with an offlink ET WAP4 #22882, the smell of food wafting from its pantry car making our stomachs grumble even more. After a 2 minute halt at BWT for God knows what (maybe they knew we would be late and kept that stop for people to buy food), we continued on a leisurely pace, the train having no care in the world unlike its passengers. After another hour of frustrating 40 kph runs we finally crawled into Krishnarajapuram KJM railway station platform 4 at 1051, ending our ordeal at 2 hours and 21 minutes behind schedule, a whole 15 hours and 14 minutes since the train left Trivandrum. Even then, that was faster than the currently fastest train on the route.

Train Review, Verdict and Some Thoughts on the "Suvidha".
Excellent timetable, but sad implementation, and a pathetic rake to boot. The most frustrating thing about this train was its terrible loco which would take forever to accelerate and struggled to maintain high speeds. We should've gotten atleast a WAP4, which would've been much quicker. Last time my special was hauled by a WAM4 which did the 65 km BWT-BNC run in just 42 minutes!! This one took an hour. If the four controlling divisions: TVC, PGT, SA and SBC gave a bit more precedence for this train,
If it had left on time from Trivandrum, if we were allowed to go ahead of the BTPN at ERN
If the Poorna was halted at Shoranur for some more time and we were allowed to pass
If there were no stops at PTJ and ED (which together wasted 40 minutes)
If there was no halt at TPT and JTJA
We would've made it with maybe a 10 minute delay and on time with a new rake and a WAP4
24 year old 2A coach of the 00611 "Suvidha" special. @GMSRailway @RailMinIndia @sureshpprabhu Belongs to @tvc138 divn pic.twitter.com/tnXNOqohce

— vadakkus (@vadakkus) August 31, 2015
However, it was Salem's controlling that hurt the run the most. Granted, this was a special service, and specials are way down in the order of precedence for trains on Indian Railways network, but this was a "Suvidha" special train, whose ticket charges go up as demand increases. There were people who had paid up to 3000 rupees for one AC 3 tier ticket and 5000 for a 2 tier AC ticket! The highest sleeper class ticket had gone at 1600. Shouldn't this be considered? When passengers pay such high charges, even if not any premium features are provided to the passengers, shouldn't the train at least run on time? Should "Premium" be limited to the name of the trains? The Railways should rethink its "Premium/Suvidha/Tatkal" special train strategy, these trains should be given precedence equal to Rajdhanis/Shatabdis/Durontos, since passengers here pay through there noses more than what a Rajdhani passenger does! Speeding them up will not cost the railways anything, right? Thanks to all the "asuvidha" this journey created, I am sure not many of my co-passengers that day would take a Suvidha train again anytime soon.
Traveling from Bangalore to Kerala is a horrendous pain, private bus lobbies have the route in a vice-like grip, especially during the weekends. The proposed premium train will end this trouble in one shot, but when will it finally start? When it does, I will be reviewing that too here! 🙂