Public Transit
A Dream for a Suburban Railway Network for Bengaluru – Namma Rail(u)!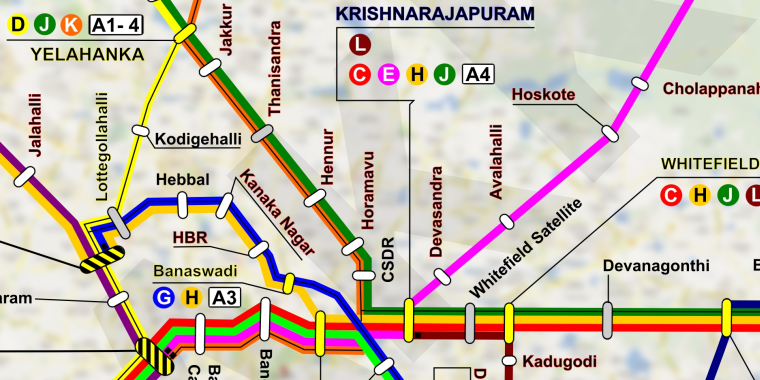 In the past two decades, Bangalore has witnessed growth of epic proportions that now only looks frightening and dangerous, almost like a biblical plague. Population and size of the city have doubled in the past 10 years as the city virtually exploded into its surrounding Hallis or villages as dusty urban jungle replaced natural jungle, lakes, wet and farmlands in the space of a decade, fueled by new-age industries such as IT and ITeS. While going over the top singing paens to success story of the city, what nobody thought of was equipping the "Silicon Valley of India" with necessary support systems to aid its growth like a proper public transit system. The result is the nightmare of the urban vehicular blight we see today. Any space not occupied by buildings is flooded by vehicles, spaces which actually are the last remaining vestiges of farmland the government likes to call "roads". Lakhs of people waste hundreds of hours stuck in traffic everyday trying to get somewhere, anywhere, moving at a blistering speed of 5 km in an hour within the city. Bangalore has ended up with Los Angeles' traffic and Mogadishu's infrastructure, a classic example of how the growth of a city is not to be anticipated or tackled.
Namma Railu – A Suburban Railway Network for Bangalore (Bengaluru)
Bangalore is the only major Indian city with no dedicated urban mass rapid transit system, be it a Metro or a dedicated suburban commuter railway system, unlike Mumbai, Chennai, Kolkata, Hyderabad, Delhi etc. A Metro line has been under construction for the past 10 years, but where Bengaluru has really missed the train is at developing a suburban railway system, especially so since the city already has an existing extensive railway network already in place. After about 50 years and 9 proposals, it was only in the Karnataka state budget of 2013-14 that a proposal for a suburban commuter railway system for Bangalore was finally approved, though further action on it has been conspicuously absent, as usual. The project has been christened "Namma Railu" by Praja, a citizens' action forum for a better Bengaluru who have been at the forefront in lobbying for a commuter rail network for the city. Namma Railu, along with a 'real' Metro and buses (BRTS) could convert Bengaluru from the present artery-busting gridlocked madness into a commuter's paradise.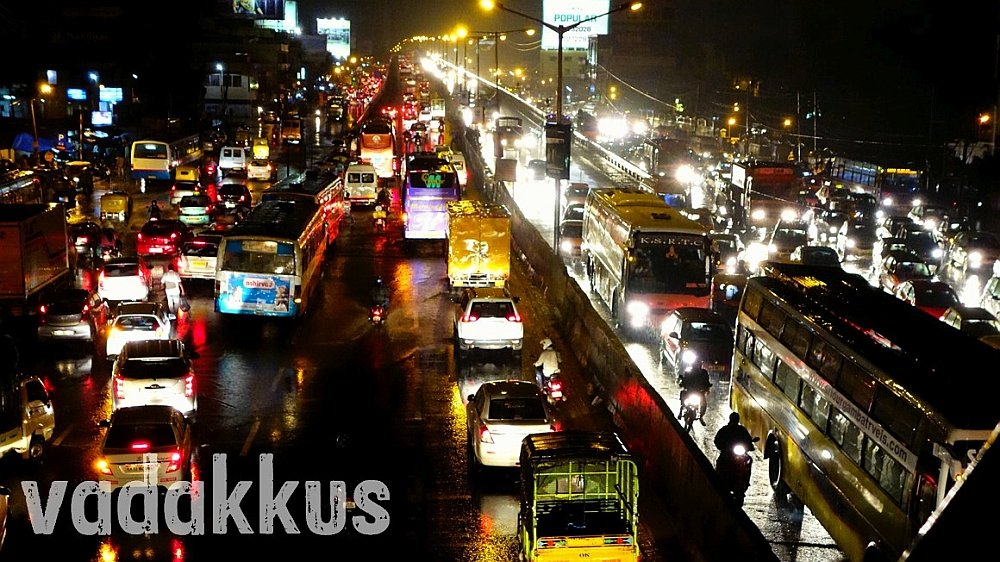 Pictured: Artery Busting Gridlocked Madness
How Will a Local (Suburban) Railway Network Help Bengaluru?
If Bangalore has to solve it's traffic woes, the bulk of its private cars, cabs and employee-shuttle buses have to go off its roads. No, there is really no other way. India and Bangalore is far too heavily populated for individual private transportation in cities to make any sense (look at Japan). People drive single occupant cars to work everyday and then shout at snarling traffic jams they themselves cause without realizing that in reality that they are the traffic and not some external entity, not to mention their smugness and false pride at "driving one's own car". All of Bangalore's traffic problems can be summarized in one sentence:
Too many people under-utilizing too many vehicles on too little road.
A lot of traffic in Bangalore consists of cars and buses coming in from its outskirts, people who come into the city for work, and people traveling to/from transit hubs like Majestic and KR Puram. A commuter railway system will take away all this traffic in one shot. Namma Railu will encourage citizens to voluntarily give up their private transportation options and will move the city out to the suburbs while also giving easy connectivity options within the city. Bangalore has low-rise and single-plot dwellings in its older areas while high-rises dominate its never "IT" areas, surrounded by mini-urban agglomerations of somewhat distant suburbs with a mix of individual houses and apartment buildings, being developed as "satellite towns" (Nelamangala, Anekal, Yelahanka, Hosur, Sarjapura, Bidadi etc) for the city. As of now these suburbs make little sense as they are out in the middle of nowhere and it takes two hours on an average to get to the city from these suburbs through narrow, massively clogged (and broken) roads which cannot be expanded or developed anymore. Here is where Namma Railu will help, by providing fast, safe, comfortable and reliable connectivity from these suburbs to the city, or between suburbs. This will help to massively decongest the city by moving residential crowds out to the suburbs and further developing those areas into perfect residential neighborhoods, where people can save more money by NOT having to spend it on horribly expensive core city areas and on fuel and time by not being stuck in traffic. And Bengaluru will be relieved of its killing traffic pressures and pollution. Namma Railu will immensely benefit lakhs of existing long distance commuters as well: Look at the crowds on trains from the suburbs like Bangarapet or Ramanagaram; or those who travel from one end of the city to another: an IT employee who drives from Mysore Road to Whitefield; a factory worker who changes three buses from Madiwala to Malur or takes a bus, train and share auto from KR Puram to Jalahalli or a govt employee from Attibele or Bidadi who unnecessarily has to rent a place in the city.
Advantages of a Suburban Railway System
Fast and efficient medium to long distance transportation solution that will reduce dependency on and number of cars and buses in the city coming in from outlying areas, thereby reducing congestion, pollution, time-loss and all other evils of traffic.
Moves residential crowds out into the suburbs and will help develop suburban areas into perfect residential neighbourhoods.
Helps long-distance travelers to reach train terminals easily from distant areas.
Lowers real estate rates and hence cost of living in the city.
Optimum utilization of railway real estate.
Costs substantially lesser to build than a Metro rail system.
Will help develop a public transit culture and mentality in the city (like Mumbai) where the first choice of travel will be public transit, people will look for options to go by train first.
Suburban commuter trains are the hallmark of any modern developed city, especially in Europe and Asia where cities are well connected to their extended suburbs and within the city on a limited scope through a network of trains (known as S-Trains (S-Bahn) in Europe). These enable people living in towns and suburbs to easily get to the city, saving them unnecessary expense on rent while also reducing dependency on private cars for the most part. These rail networks are so intricate, seamlessly interconnected and efficient, almost a work of art, that all you need to is get to the station nearest to you to get to any other station with a maximum of one change and a quarter of time what it takes by car. The most obvious example closer to home is of course Mumbai, whose suburban (local) trains are the city's lifeline (overcrowing notwithstanding). You can have a look at some commuter system transit maps for suburban trains of Frankfurt (Germany), Zurich (Switzerland) and Tokyo (Japan) below. These are not Metro trains running within the city but suburban trains running for a distance of around 100 km from the city center in all directions. For transit within the city, Frankfurt has buses and light rail, Zurich has trams and buses, Tokyo has a metro and subway. This is what we need in India, in all major cities with populations of more than 100 million (10 crore). Click on the picture to view the map in detail. Here are some more such urban maps.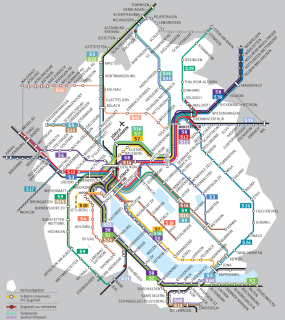 Why A Suburban Commuter Train Network? Why not just The Metro? What is the Difference?
The term "Metro" is used more as a brand name in India to signify shiny, air-conditioned new-age city transport trains in contrast to the age-old commuter trains run by the Indian Railways with their open doors and window bars. However, this glamour quotient is not what defines these systems, commuter trains the world over are also as "shiny" as "Metro" trains are (check at the end of this post). While both are high-capacity rapid transit public transportation systems, there are major differences between Metro rail and Suburban commuter rail networks. "Metro" (or Subway) trains connect parts of a large city with each other, running within the city on elevated tracks or within tunnels and usually have a maximum line length of 50 km. They usually don't go far out of city limits and have a station every kilometer or so. Suburban trains, as their name indicates, connect the city with its far-flung suburbs sometimes more than a hundred kilometers away from the city center, with stations farther apart than the Metro (~3 km) and usually built at grade (on the ground). Suburban rail also connect suburbs with each other without entering the city. The New York Subway and Moscow Metro are "Metro" services while Mumbai Locals and S-Bahn (Zurich) are Suburban Rail. The Tube (London) could be a hybrid of both Metro and Suburban rail. Tokyo is an example of city which has both separate Metro and Suburban railway systems.
When it comes to Bangalore (like every Indian city), Metro and Suburban Rail can co-exist catering to all types of commuters. The Metro for daily commutes within the city and Suburban rail for long-distance travel to the suburbs. Bangalore already has an extensive railway network cutting right through the city, connecting all of its important extended suburbs (Hosur, Bangarapet, Kolar, Chintamani, Chikballapur, Doddaballapur, Tumkur, Nelamangala, Mysore Road). The southern parts (Bannerghatta, Kanakapura) and Sarjapura are the only major suburbs not connected with any railway lines. Upgrading our existing railway system to include Namma Railu will also save us thousands of crores of Rupees because most of the required infrastructure is already present! Bangalore "Namma" Metro's Phase 1 (two lines) alone will cost Rs.13800 crore (there are two more phases) while the entire suburban railway system is estimated to cost 'only' Rs.8700 crore! And Namma Railu can be fully operational in a couple of years while the Metro has been under construction for a century or something with no end in sight.
A Wishful Plan for a Suburban Railway Network for Bengaluru!
Imagine traveling long distances across the city in the train with easy connections! Imagine getting to your office in Whitefield from your home in Jalahalli in just 40 minutes, that too while watching your favorite American Sitcom without any stress of driving and at 1/5th of the cost! Imagine having to forget taking a cab to the airport or to catch a train from Yeshwantpur ever again! As the government and railways and everyone else is sleeping as usual, I have taken it upon myself to create a plan for an integrated suburban (local) commuter railway network (Namma Railu) for Bangalore, connecting the city with its outlying suburbs using already existing lines and adding a few as well. My plan here is inspired by the S-Bahn lines of Zurich and Berlin. Ladies and Gentlemen, I present! *drumroll*
I hope you like it. The letters in the circles are line numbers (ala New York Subway) and all junction stations show what lines pass through them/terminate there. In the Universe where these lines exist, you can take a train from any major station in Bangalore to any other reaching within 30 minutes or so for distances you would take one and a half hour in your car. It also entails construction of a number of new stations along major residential and industrial agglomerations where there are railway lines today but no stations (Horamavu, Hennur, Thanisandra, Kumbalgodu, HBR Layout, Marathahalli, Doddanekkundi, Kaggadasapura etc). The lines will converge at three node point of four stations which also serve as the most important transit stations and nerve centers of the system: Bangalore City (SBC), Yeshwantpur (YPR) and the Bayyappanahalli (BYPL)-Krishnarajapuram (KJM) interchange-complex where all but one (D) of the city lines meet.
Lines connect every part of Bangalore with its suburbs and important places in the city in most cases directly or at the maximum with one change. We have here 10 lines connecting the city with the suburbans and 2 inter-suburban lines of regional rail (N and S) running a ring around Bangalore City. Seven of these can be run entirely on and three partially (one (F) for a major portion) on existing tracks while only two lines (L and S) need to have completely new tracks constructed. A1, A2, A3 and A4 are lines to airport, which I will cover in a separate post. With these lines, all suburbs will be connected with the city, especially the three routes that see very high volumes of traffic into the city: Mysore Road, Whitefield – Malur – Bangarapet and Anekal – Hosur. These trains will ease hardships to long-distance travelers by taking the load off long distance trains that now carry suburban traffic also. *TBC – To Be Constructed
Channapatna – Bangalore City – Bangarapet – Marikuppam "Mysore Main Line" (B, C, D, E, F, H, J, K, L, S, N)
Bangalore City – Nelamangala/Tumkur "Tumkur Line" (D, F, G, H)
Yeshwantpur – Yelahanka – Gauribidanur "Hyderabad Line" (D, G, H, J, K)
Yeshwantpur – Banaswadi – BYPL B Cabin (Flyover) – Hosur "Hosur Line" (B, G, H)
Chikballapur – Yelahanka – Krishnarajapuram "Branch Line" (J, K)
Krishnarajapuram – Chintamani "Chintamani Line" (TBC) (K)
Kengeri – Kanakapura "Kanakpura Line" (TBC) (F)
Whitefield – Sarjapura – Hosur "Sarjapur L Line" (TBC) (L)
Bidadi – Anekal – Hosur – Malur "Southern Line" (TBC) (S)
ML Halli (TBC) – DB Pura (TBC) – CB Pura (TBC) – Chintamani – Kolar – Bangarapet "Northern Line" (H, N)
My Namma Railu Network: The Systems and Operations of a Modern City!
Indian railway systems focus on end-to-end connectivity and give scant regard to connections. Even on the Indian Railway network currently there is no option to book single-through tickets by changing connections on multiple trains (as in airlines) unlike in the west. People in India are yet to wake up to the technicalities of HOHO (Hop On Hop Off) commuting and refuse to consider any mode of traveling which does not offer point-to-point connectivity, which is a fallacy that needs to be addressed. This Namma Railu system is seamlessly interconnected where all lines will intersect with each other at important points where commuters can switch trains to get to their destinations with ease and no hassle. Every 3rd or 4th station is a junction station where people can change trains as per their convenience. For example if a person wants to go from Tumkur to Hosur, they can take the F line to Yeshwantpur and switch over to the G line there and so on. And all these stations will be integrated with Metro stations (like Bayyappanahalli) to ensure smooth and seamless switchover between systems for traveling public enabling maximum convenience, which the real meaning of an integrated public transportation system. So, a person coming from Tumkur can easily get to MG Road or Jayanagar or BTM by taking the F line and switching over to the Metro at Majestic.
For this kind of high-tech system to develop, what first needs to be achieved is a complete overhaul of not just the system but mindsets too. Namma Railu should not end up as a string of 5-numbered Indian Railways MEMUs of today's 1960s design running between random stations at random timings. For our city to move ahead we should move ahead at par with "modern, world-class" systems too! What we need is a regular, structured, streamlined system of trains running at regular intervals between stations offering easy switchover options for commuters. For these trains to run on time and be reliable and convenient for passengers, timetables have to be orchestrated to ensure seamless and flawless connectivity. Color coding of lines and route numbers which will ensure easier recall, recognition and identification of system lines. Of course, they can have standard train numbers for operational purposes, but unlike Mumbai locals these trains should be public-friendly in their operations. Timetables have to be fixed on account time intervals of departure. "The C-line leaves every 10 minutes, on minutes ending with '3' (8:23, 8:33, 8:43) etc" instead of trains leaving at 8:29, 8:31, 8:44, 8:47 and so on. This also gives trains and route an identity and connection with its riders who will actually take the train for the love of it!
The Routes, Lines and Technicalities of My Namma Raliu Network
These straight route diagrams below show the 12 lines of my Namma Railu system with their stoppages and junctions and which lines join, leave or run with them. For example; for the B line running from Ramanagara (below), S line and D line join at Ramanagara while C line originates along with it. S line leaves at Bidadi while F line joins at Kengeri. D and F then leave at Bangalore City where K and E and run with it. At Baiyyappanahalli H line joins and leaves the B line while K, C and E all leave the B line. Then at Kaggadasapura G line joins it and so on.
Ramanagara – Bangalore City – Baiyyappanahalli – Hosur

The B-Line will connect Mysore Road and Bangalore City with new residential areas of the IT stretch along the Outer Ring Road and onward to Hosur. Baiyyappanahalli is the most important junction. Runs combined with G from Hosur to Kaggadasapura.
Stoppages: Ketohalli (O), Bidadi, Hejjala (O), Kumbalagodu, Kengeri, Jnanabharati (O), Nayandanahalli, Krishnadevaraya H (O), Bangalore City, Bangalore Cantonment, Bangalore East, Baiyyappanahalli, Kaggadasapura, Doddanekkundi (O), Marathahalli, Bellandur (O), Carmelaram, Heelalige (O), Anekal.
115 km | 3:00/2:40 hrs | Ordinary and Express | Freq: 10 min (Peak), 20 min (non-Peak) | Fully AC MEMU | Rakes: 12 Car (Peak) 9 Car (Non-Peak)
Ramanagara – Bangalore City – Bangarapet – Marikuppam
The Red C-Line will be the most important and busiest line of Namma Railu, running on its most crowded corridor cutting through the city from Mysore Road to Majestic to KR Puram, Whitefield, Bangarapet and Marikuppam, which have already evolved into a suburban corridor with lots of passenger and MEMU services already running. It will be the thoroughfare of Namma Railu, connecting the city's most important IT, industrial, business, commercial and residential areas.
Stoppages: Ketohalli (O), Ramanagara, Hejjala (O), Kengeri, Nayandahalli, KD Halt (O), Bangalore City, Bangalore Cantt, Bangalore East, Baiyyappanahalli (O), Krishnarajapuram, Whitefield Satellite (O), Whitefield, Devanagonthi (O), Malur, Byatarahalli (O), Tyakal (O), Maralahalli (O), Bangarapet, BEML Nagar, Coromandel, Oorgaum, Champion.
132 km | 3:20/2:55 | Ordinary and Express | 10 min (Peak), 20 min (non-Peak) | Fully AC EMU | Rakes: 15 Car (Peak) 12 Car (Non-Peak)
Channapatna – Bangalore City – Yeshwantpur – Yelahanka – Doddaballapur
The Yellow D-line will connect the three of Bangalore's most important stations: Majestic, Yeshwantpur and Yelahanka with Mysore Road and the upcoming residential boomtowns near Yelahanka.
Stoppages: Ramanagara, Ketohalli (O), Bidadi, Hejjala (O), Kumbalagodu, Kengeri, Jnanabharati (O), Nayandahalli, Krishnadevaraya H (O), Bangalore City, Malleshwaram, Yeshwantpur, Lottegollahalli (O), Kodigehalli, Yelahanka, Nagenahalli (O), Rajanukunte, Bisuvanahalli (O), Doddaballapura.
98 km | 2:50/2:30 | Ordinary and Express | 10 min (Peak), 20 min (non-Peak) | Fully AC MEMU | Rakes: 12 Car (Peak), 9 Car (Non Peak)
Bangalore City – Krishnarajapuram – Hoskote – Chintamani
The E-Line has to run on a line newly to be constructed from Krishnarajapuram to Chintamani via Hoskote, which is one of the most populous Bangalore suburbs seeing a lot of traffic everyday to where hundreds of BMTC buses run.
Stoppages: Bangalore Cantonment, Bangalore East, Baiyyappanahalli, Krishnarajapuram, Devasandra, Avalahalli, Hoskote, Cholappanahalli, Doddenahalli, Nandhagudi, Nelavagilu, Kaiwara.
Ordinary Only | 10 min (Peak) 30 min (non-Peak) | Fully AC MEMU | Rakes: 9 Car (all-times)
Kanakapura – Bangalore City – Yeshwantpur Jn – Tumkur
The F-Line will run between Bangalore and Tumkur via Yeshwantpur which also is one of the highest traveled suburban routes in Bangalore. It will continue on to Kanakapura via Kengeri, a line that is already approved for construction.
Stoppages: Jakkasandra, Harohalli, Kaggalahalli, Bolare, Kaggalipura, Udayapura, NICE, Kengeri Town, Kengeri, Jnanabharati, Nayandahalli, Bangalore City, Malleshwaram, Yeshwantpur, Jalahalli, Chikbanavara, Soladevanahalli, Gollahalli, Bhairanayakkanahalli, Dodbele, Muddalinganahalli, Niduvanda, Dabaspete, Hirehalli, Kyatsandra.
Ordinary and Express | 10 min (Peak) 20 min (non-Peak) | Fully AC MEMU | 15 Car Rakes (Peak Times), 12 Car Rakes (Non-Peak Times)
Yeshwantpur Jn – Banaswadi – Anekal – Hosur
The Blue G-Line will be a high-capacity line from Hosur to Yeshwantpur via Banaswadi. Many DEMU passenger trains already run on this route.
Stoppages: Lottagollahalli, Hebbal, Kanakanagar, HBR, Banaswadi, Kaggadasapura, Doddanekkundi, Marathahalli, Bellandur, Carmelaram, Heelalige, Anekal.
67 km | 1:30 hrs | 10 min (Peak) 20 min (non-Peak) | Ordinary Only | Fully AC MEMU | Rakes: 12 Car (All-Time)
Kunigal – Yeshwantpur – Banaswadi – KR Puram – Bangarapet – Kolar
The Golden H-Line will be one of the most important lines and diverse lines connecting Nelamangala and Yeshwantpur with Banaswadi, Bayyappanahalli, KR Puram, Whitefield, Bangarapet and Kolar.
Stoppages: Marur, Solur, Nelamangala, Soldevanahalli, Chikbanavara, Jalahalli, Yeshwantpur (R), Lottegollahalli, Hebbal, Kanakanagar, HBR, Banaswadi, Baiyyappanahalli, Krishnarajapuram, Whitefield Satellite, Whitefield, Devanagonthi, Malur, Byatrayanahalli, Tyakal, Maralahalli, Bangarapet.
116 km | 2:20/2:00 | 10 min (Peak) 20 min (non-Peak) Ordinary and Express | Fully AC MEMU | Rakes: 12 Car (Peak), 9 Car (Non Peak)
Gauribidanur – Yelahanka – Krishnarajapuram – Bangarapet

The Green J-Line will run on the most neglected stretch of railway line in Bangalore. The Yelahanka – KR Puram branch line has immense potential to turn into a major commuter rail corridor with all the newly sprung up apartment-filled high density residential areas around Ramamurthy Nagar, Horamavu, Hennur etc. Direct line from Whitefield to these areas. A number of railway stations need to be constructed along this line for it to be effective.
Stoppages: Tondebavi, Makalidurga, Oddarahalli, Doddaballapura Jn, Doddaballapura, Bisuvanahalli (O), Rajanukunte, Nagenahalli (O), Yelahanka, Jakkur (O), Tanisandra (O), Hennur, Horamavu, Channasandra, Krishnarajapuram, Whitefield Satellite (O), Whitefield, Devanagonthi (O), Malur, Byatrayanahalli (O), Tyakal, Maralahalli (O).
132 km | 3:00/2:40 | Ordinary and Express | Fully AC MEMU | Rakes: 12 Car (Peak), 9 Car (Non Peak)
Bangalore City – Baiyyappanahalli – Yelahanka – Chikkaballapura
The Orange K-Line runs from the northern suburb of Chikkaballapura through Devanahalli and Yelahanka to Bangalore City via the same Channasandra branch line, connecting those places with Majestic and Bayyappanahalli.
Stoppages: Bangalore Cantonment, Bangalore East, Baiyyappanahalli, Channasandra, Horamavu, Hennur, Thanisandra, Jakkur, Yelahanka, Bettahalasoor, Dodbele, Trumpet, Devanahalli, Avathi, Venkatagirikote H, Nandi.
73 km | 2:00 hrs | Ordinary Only | Fully AC MEMU | Rakes: 9 Car (All-Time) | RSA with E-Line
Krishnarapuram – Whitefield – Sarjapura – Attibele – Hosur

The Crimson L-Line is rather short and connects Karnataka-TN border areas like Attibele, Sarjapura and Hosur directly with the city at Whitefield and Krishnarajapuram, a route for which there is a lot of demand but no direct connectivity.
Stoppages: Whitefield Satellite, Whitefield, Kadugodi, Immadahalli, Varthur Road, Nerige, Sarjapura, Medihalli, Attibele, SIPCOT, TVS.
Ordinary Only | Fully AC MEMU | 15 min (peak) 40 min (non-peak) | 9 Car Rakes (all-time)
Channapatna – Bidadi – Bannerghatta – Attibele – Hosur – Malur – Bangarpet

The Blue S-Line (S for South) runs around the southern and eastern peripheries of the city, connecting Mysore Road with Kanakapura Road, Bannerghatta Road, Karnataka-TN border areas, Hosur Town and Malur with Bangarapet. An entire trip will take four hours. Has to be newly constructed.
Stoppages: Ramanagara, Ketohalli, Bidadi, Udayapura, Bannerghatta, Jigani, Anekal, Attibele, SIPCOT, TVS, Hosur, HUDCO, SEZ, Bagalur, Malur, Byatrayanahalli, Tyakal, Maralahalli.
160 km | 04:00 | Ordinary Only | Non-Peak: Every Hour, Peak: Every 20 min | Fully AC MEMU | 12 Car Rake (all time)
Tumkur – Doddaballapura – Chintamani – Kolar – Bangarapet – Marikuppam
The Northern sky blue N-Line will connect all the Northern suburbs with each other, running a semi-circle around the northern part of Bangalore. This line can also act as bypass line for freights to bypass Bangalore City. A very much required rural line. Also, very long. The line from Chikballapura to Marikuppam already exists.
Stoppages: Kyatsandra, Hirehalli, Dabaspete, Niduvanda, Muddalinganahalli, Hulikunte, Belavangala, Kodigehalli N, Doddaballapura Jn., Rajaghatta, Nandi Hills, Nandi H, Chikkaballapura, Giddanahalli, Sidlaghatta, Hunsenahalli, Chintamani, Doddanaatta, Srinivasapur, Dalasanur, Tottihalli, Kolar, Bangarapet, BEML Nagar, Coromandel, Ooragum, Champion.
240 km | 05:20 | Ordinary Only | Runs Every Hour | Fully AC MEMU | 12 Car Rake (all time)
Which will be your own commuter railway line? Which route would you frequent? Let know in the comments!
Note: For areas that cannot be covered by Suburban Rail for obvious reasons there will be a extensive Metro/BRTS network. Like this one 🙂
Here is What Needs to be Done
So we just have to start running trains on these lines now? Unfortunately it is not that easy. There is no suburban railway network in Bangalore right now because the number of tracks, stations and platforms here are hardly enough to support running regular Indian Railways trains, forget another entire new system of suburban trains. The construction and running of these lines should not lie with Indian Railways or with South Western Railway (SWR) who have enough problems of their own. A new body, a Special Purpose Vehicle (SPV) named the Bangalore Suburban Railway Corporation (BSRL) has already been constituted to implement this plan. They should also take over running the lines, leaving SWR off the headache of running commuter trains. if Bangalore should not go the Mumbai way where CR and WR are struggling to run the locals along with their long-distance trains. Here are the infrastructural requirements for Namma Railu to be successful.
Track Requirements (Doubling/Quadrupling/Pentupling)
(Where ever four lines are proposed, the inner two will be for Indian Railways trains and the outer for BSRL trains.
Ramanagaram to Bangalore City: Four tracks (currently Two)
Bangalore City to Malur: Five Tracks: The Fifth for Freights and Loco movement (Currently Two)
Malur to Bangarapet: Four Tracks: (Currently Two)
Bangalore City to Soldevanahalli: Four Tracks (Currently Two)
Hosur to Yeshwantpur: Two Tracks (Currently One)
Krishnarajapuram to Yelahanka; Yeshwantpur to Yelahanka: Two Tracks (Doubling already underway for both)
Yelahanka to Doddaballapur: Two tracks (Currently One)
Tripling of the Krishnarajapuram – Channasandra Byepass (currently under doubling)
Doubling of the Byappanahalli – Channasandra (Connecting) Line
Other Infrastructural Requrements
Electrification of all remaining lines (Chikbanavara to Tumkur, Hosur to Banaswadi as well as all new lines)
Raising and lengthening of all platforms at all existing stations.
Increase in Number of Platforms at Bangalore City (4), Baiyyappanahalli (2), KR Puram (2) etc.
Automatic Signaling and Control Systems and ACD (anti-collision devices) fitted on all trains.
New Lines and Stations:
Kengeri to Kanakapura (F) via Udayapura, Kaggalipura, Harohalli (Survey Done, Line already approved for construction)

Nelamangala to Kunigal (H)

(Line already under construction)
Krishnarajapuram to Chintamani (E) via Hoskote (Brand New Line)

Whitefield to Hosur

via Sarjapura, Attibele: (Brand New Line to be Surveyed)
S-Line and

N-Line

: Brand New Lines which need to be surveyed
New Stations as marked with a red outline the plan map: These are essential to provide maximum utilization of lines.
Rolling Stock, Rakes and Depots
All trains will be fully airconditioned with driver-controlled automatically closing doors, modern and good-looking (Metro trains on BG rails?). We need to teach our population some discipline. We cannot go on with Kuch bhi chalega or Ella nadiyuthe attitude. One thing that we can learn form the Bangalore Metro is that if the trains are clean and air conditioned, it will rub off the people who will desist from dirtying and fooling around. The trains will all be EMU trainsets consisting of sets of 6 cars. During rush hours capacity can be increased by adding more car sets. It does not make sense to run empty 15 car sets with hardly any passengers during day times. Electricity and wear and tear can be saved and maintenance of car sets can be taken up during this time. Trains will run from 0430 in the morning to 0100 at night. Coaching depots should be set up at Baiyyappanahalli, Ramanagaram, Hosur, Yelahanka and Bangarapet with workshops at Ramanagaram, Baiyyappanahalli and Bangarapet.
And when we say, modern rakes, we mean these:
And Not These: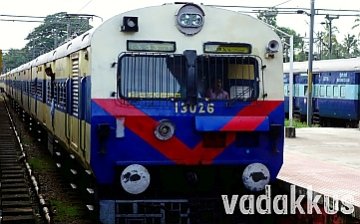 (Nothing against these EMUs, even I like them but it is time we finally left these designs behind and moved on)
EPILOGUE: Will it Happen? It HAS to Happen. There is No Other Way Forward.
All this looks extremely cool in theory. What however is missing is the action on the ground as always. Despite it being the obvious solution for much of Bangalore's traffic woes, all those in power and might are completely disinterested in implementing! There might be many vested interests from automobile lobby to real estate mafias at play at stunting the growth of viable public transportation systems on the city and our country, but those "interests" cannot continue in the status quo forever because one day everything HAS to change, as we have seen across the world. Compare the New York City of 1846 we see in Gangs of New York to the City of today. Such changes might happen due to a sudden catalyst or due to gradual changes. Let Namma Railu be the catalyst that will convert Bengaluru into a truly World Class city instead of the pretentious mess that it is today. In fact, this model should be replicated across the country with short commuter trains serve every single city or town. A city cannot grow or prosper without ensuring rapid transit mobility for its citizens, enabling them to get to the city to work and play without wasting time stuck in traffic, as all great cities of the World show. It is incredulous that whenever people talk about connectivity to the suburbs from the city they talk about huge and expensive roads and never about fast commuter rail! We Indians have to dump this "driving car is a status symbol" attitude that we got and realize the truth that private, self-driven cars will, in a decade or two at max, become an obsolete thing of the past. The disastrous American way of huge single occupant cars stuck one behind another in long lines on narrow (in Bangalore) roads is not the model we have to adopt for our future, if we don't want our children to grow up choking on pollution, stress and diseases. There is still time to correct our shortcomings and make Bengaluru a proper city. The commuter rail sun has to shine on Bangalore. It has to. There is no other way forward.