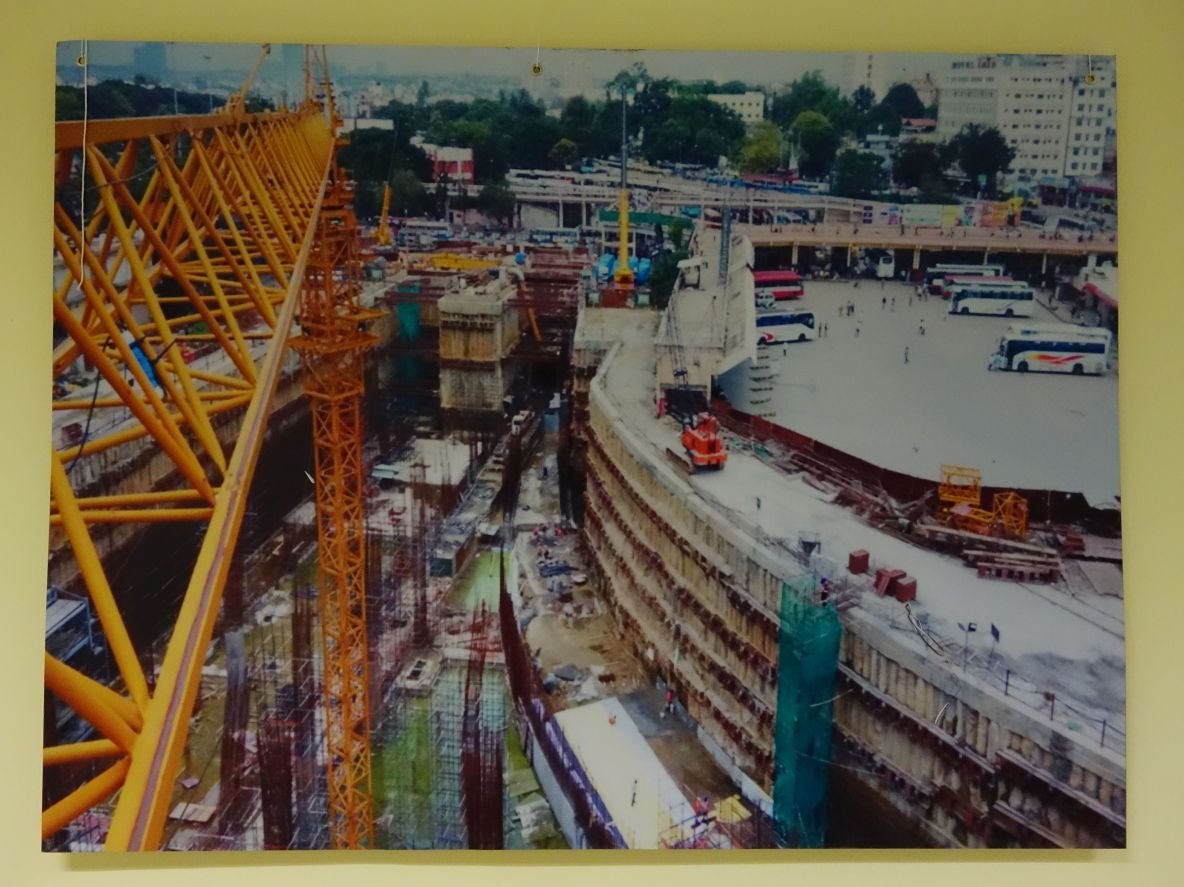 "Why can't build India build infrastructure like China?" is the new "Why doesn't India produce a Facebook/Google?". The internet is full of it and it drives one nuts. There are a large number of countries in the world with great disparities in demography, government, politics, culture, history and attitudes of their people and so on. Of course, hence things work differently in different countries. But no. Short sighted people who can't see beyond their noses insist on thinking that everything and everyone around the world is perfectly homogenous and identical to everyone and everything else, and so whatever exists in one place can be copy-pasted and replicated at another. This mentality is closely followed by the "localisers" or nativists who believe anything that is not created at it's native place of origin and consumption is bad in some convoluted way. Well, when a state spends a supertaker-load of public money, it is to make sure that the best results are delivered to users, the citizens, rather than the fulfillment of some lofty ideal. But on to that in a minute. The reason for this post is a question I was referred to on Quora.
"If India is so presumably full of scientists and engineers, why can't they not even build a metro on their own but asking Chinese firms to build Mumbai metro?"

Some Guy on Quora
This is a perfect application of the phrase "the problem with this question is not that's not right, it isn't even wrong". This assumption that the onus of executing massive infrastructural projects lies with professionals like scientists and engineers is a ridiculously widespread misconception. In addition, a "country" does not ask another if they could build a metro railway line as if you were asking your neighbour Soman chettan to pluck jackfruits from your tree. Metro railway projects are executed by specialised infrastructure ventures which usually are conglomerates of companies manned by people of many nationalities. However, looking at the negative rhetoric and implied contempt and sarcasm in the question, one gets this feeling that no matter of convincing would be enough to convince the questioner. In any case, there seems to be a healthy dose of misunderstanding and ignorance about anything related to infrastructure and railways in particular all across the world. We can't have that, can we? So, let us bust some myths.
Few Things are as Complex as an Urban Railway Line
There seems to be a general perception that building metro railways are as simple as building a road. No infrastructure project is more complex in its reach and impact than an urban mass-transit railway line. No, not even an airport, not even close. Building a metro line is not, as people think, sticking a bunch of pillars in the ground or boring a hole underfoot, much less arranging a model railway set on a table. There are countless, innumerable variables that affects the building of a metro line, from the soil type (for every pillar) to random utility lines like water pipes forgotten long ago, the environment, rock formations, building foundations, other railway lines, statues, climate, socio-economic factors and everything in between. It is not "not even", but THE most complex and complicated engineering project a city will EVER undertake. An urban railway "metro" line is a living, breathing organism, built, born, and living among the people as one of them. It is as much a part of the city as its people are, their lives closely interwoven and interlinked. Building a metro line means literally destroying a part of the city and rebuilding it as a new structure, tearing out a part of it and replacing it with a new one, ripping open and apart lives and homes and hearths, and then sewing it all back together to embed the new system firmly into it like a new organ. It is an extremely painful process, but to build something new, you will first have to destroy it. Stop complaining about "Metro work" making you unable to drive you car, for instance.
Philosophy apart, large infrastructural projects, especially transportation projects are not primarily technological challenges but social, economic and political challenges and secondly (civil) engineering challenges. Long before the work to build it even starts, an entire chain of events is set in motion, one of long hours of collecting and interpreting data for planning and analysis and negotiations for the best efficient execution of the project. How would the system be structured, what exact route it would take, what materials should be used for construction, where and how the stations have to be built, on the people and places that will get affected, to take decisions to structure the project in the best possible way to maximise the effect of the metro/subway in economic, financial and social terms, and of course to calculate the human and financial costs. Drawing up these plans is the most daunting part of the project. This is then followed by the real physical digging and hauling, the hardest part of the project, which is as unglamorous as it gets. But still, the building part of these systems are generally quite easy compared to the processes that precede the building part. However, todays "Techbros", the people populating the internet who sear technology and Android apps will save the world, seem to think that infrastructure projects can be somehow "coded" into existence by cool geeks sitting in airconditioned towers, and that projects are defined by the amounts of "cool" and "shiny" tech and not its practicality or sense it makes. Case in point: Hyperloop. It is stupid to pigeonhole massive cross-disciplinary projects into technological singularities.
Building and operating any metro railway project touches upon an impossibly wide range of disciplines and subjects. It involves all disciplines of engineering, from civil to mechanical to electrical to electronics to computers and everything in between, in addition to geology, architecture, humanities, environmental studies, sociology, urban planning and so on. However, the biggest single aspect that influences any urban infra project is the people it affects and dealing with the human psyche and its mentality. Since any metro project will inevitably pass through among the most densely populated and diverse regions on the planet, building one will face multiple challenges on addressing the anxieties and tribulations of the people at every step on its way. It is only through hard, painstaking and meticulous grind on the ground, raw physical feet-on-the-street work, that these issues can be anticipated, identified, faced, negotiated, fought, worked around and resolved. No amount of analytics suites or predictive algorithms can help you there. No, it is definitly not an engineer's job, much less that of a scientist's, unless the scientist is a social scientist. It is seriously delusive to think that a bunch of "scientists and engineers" can one fine day come together such a complex multi-disciplinary project. Forget one team, it is not possible for even one company alone!
The Internationalism of Indian Metro Projects
The MMRDA, which "owns" the Mumbai Metro (except line 1) could never have hoped to build the system alone. This is not, as many people think, because they are incapable or because they can't procure the talent. It is because of the enormous scale of the project and all the disciplines involved that it is simply unviable. Hell, just assembling and operating tunnel boring machines, each one of which can get upto 30 metres long, is a separate science of its own! No large project today can expected to be 100% local because it is impossible to accumulate all the talent, expertise and know-how to deliver a fully-fledged system of any kind in a single place. Such expertise is scattered around the world, across geographies and nationalities, bringing it all together results in superior executions for the people who are to use them. So they floated global tenders to build the metro line and selected those with the greatest expertise. Why not get build our metro line built by the best experts on the planet becuase we have the money to pay said experts? It is not to say that Indian expertise is bad, but rather, it is saying that Indian expertise gets stronger when combined with global expertise. It will only provide Indian users with the best products and the best experience. And no, "India" didn not "ask" China to build the metro for us. It simply does not work that way. A metro project is built by a large set of players, each responsible for one part of the project only. The company laying the electrical traction will have nothing to do with the guys who dug the tunnel.
Let us look at some examples to give you an idea how much transnational a metro project can get. All Mumbai Metro lines except Line 1 are publicly owned through the MMRDA. Mumbai Metro Line 1 is a private enterprise owned by MOOPL, a joint venture (JV) between RATP (French, Govt owned), Transdev (French, public sector), and Reliance Infra (Indian, Public Ltd). The tunnelling for the Mumbai Metro Line 3 is so complex a process that this alone is undertaken not just by one company but by a series of joint ventures between large global infrastructure companies. They mainly are: CEC (Taiwan)-ITD CEM (India)-TPV (Hong Kong) JV, Dogus (Turkey)-Soma (India) JV, HCC (India)-MMS (Russia) JV, L&T (India)-STEC (China) JV and J.Kumar (India)-CRTG (China) JV. The TBMs for the last JV are supplied by an Australian company, assembled in China. The Delhi Metro trains come from a range of manufacturers from Hyundai Rotem, Mitsubishi Electric, Bombarder, CAF and BEML Bangalore, which also builds the coaches for the Bangalore Metro using Korean and Japanese traction and electricals. DMRC literally acquired its expertise and knowledge to build the Delhi Metro through the MTR Corporation of Hong Kong. The Mumbai Metro Line 4 is being designed by a consortium of DB Engineering & Consulting GMBH (German), Louis Berger and Hill International (both American) while most of it is being built by the Reliance-Astaldi (Italian) JV who are also building the Versova-Bandra sealink. The Kochi Metro's 18-km length was built by five different JV's while the trains were built by Alstom in Andhra Pradesh. And so is the case for every single Metro railway in the country. There are hundreds of suppliers, vendors and subcontractors working under each of these undertakings. Hopefully no one will ask how much of the Mumbai Metro is Turkish?
In today's globalised world, which most of us are beneficiaries of, manufacturing of things are essentially enormously complex supply chain operations, broken up and divided into micro projects to maximise profit and utilise the best resources in the most efficient way (though we end up destroying the planet in the process). The electronic communication device you typed that question on, has components designed, manufactured and assembled in countries across the globle. Why can't your country which is full of great people "even" build a simple phone? Oh and BTW, the train you see below was completely designed and built by Indians in India (Chennai), in a plant fully owned by the Indian Railways. Unbelievable? Yeah. And they did it in around 18 months. Shocked? You should be.