Opinions and Ideas
Running Profitable Trains Might Solve Indian Railways' Financial Crisis?
A lot of bandwidth of all kinds is spent these days on wailing and whining about how the railways are running in loss. "Indian Railways (IR) recovers only 57% of cost of travel on an average!" laments the railway ticket. Everywhere on IR properties, signs and posters ask us if we are aware that 43% of "our fare" is borne by "common citizens" of the country. The message on the ticket makes it feel like it is somehow the passengers' fault that the railways is losing money, while in fact the "common citizen" who is said to bear the "remaining" 43% of that railway rupee is ultimately the railway passenger herself. In addition, they exhort passengers to pitch in and help the railways to make some money by giving up subsidies and by arbitrarily paying more fares during high-demand times (under the extortionist "dynamic pricing" scheme – on a single-operator monopoly system) and so on. All these psychological moves by the Indian Railways to somehow make its customers feel guilty and force them into shouldering its troubles are in one word, preposterous. The burden of the railways' mismanagement is not theirs to carry.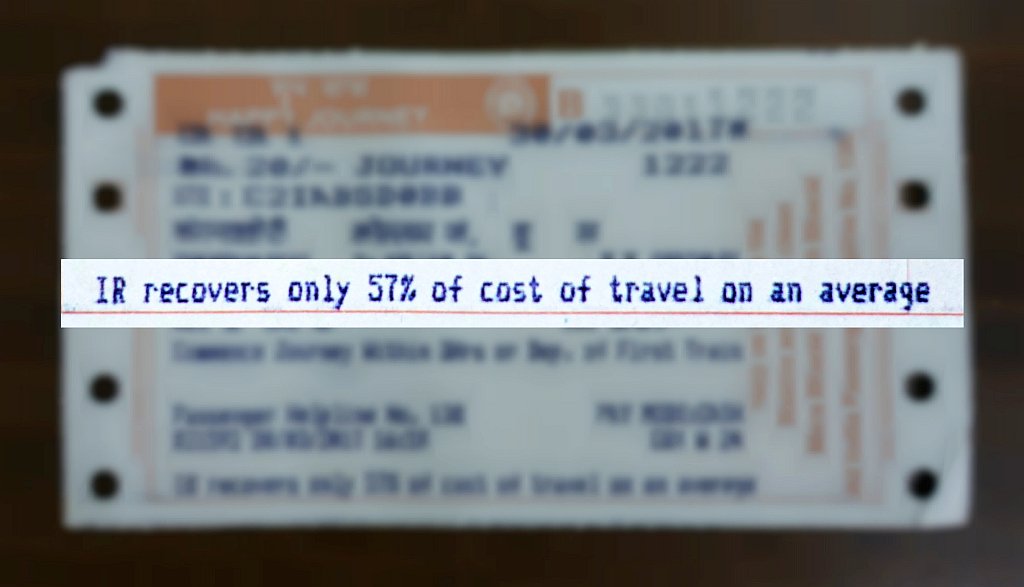 In a business, it is entirely the business owners' or operators' prerogative to ensure the enterprise's financial health. It is not and ever that of the users' or the customers'. In the case of the Indian Railways, however, it can be argued that it is in the passengers' best interests that they pay up because IR is a major driver of the economy, provides cheap travel to the vast unwashed masses, promotes national integration, and so on, and is not a "business" per se but a very integral part of the nation's structure. Absolutely. But then again, nothing exists in isolation from the overall economy and running a railway network costs money, and the railways are scrambling head over heels trying to make money. This is why even when railways ask passengers to bear a part of the railways' losses, as a "part of the nation" thing, the railways still have a duty to fulfill towards their fare-paying passengers. Are they fulfilling their part of their bargain? Are the Indian Railways, as the operator, doing what is required to mitigate those losses? Sadly, it looks like they aren't. They single-handedly try to burden passengers with the burden of losses while doing nothing about the losses. And running a monopolistic service and then burdening customers and the general public with the weight of losses is pure and simple, exploitation.
The Easiest Way for Indian Railways to Generate Revenue
Before turning to all kinds of complicated, convoluted and indeed, expensive secondary ways of trying to generate revenue, the railways should focus on making money from its primary source. What all those wonderful economic experts who have seemingly no dearth of advice to offer the railways on revenue generation always miss the most basic elephant in the coach. Make money by running trains! The Indian Railways does not seem to be interested in properly leveraging its core services to generate more revenues. Or, they simply do not run trains on much-needed and heavily patronised routes which could've earned them lots and lots of money! This is like refusing to take the cap off a water bottle and then complaining about thirst (lame cliche).
There are two simple things a service business should do when it finds itself losing money:
– Cut losses by removing and consolidating non-remunerative operations
– Identify and increase/strengthen services that can bring in better revenues
What the Indian Railways seem to do, however, is the exact opposite. Subsidies and concessions are not the only reasons why the railways are in loss. They keep adding empty-running, loss-making trains on unpatronised sectors while refusing to run more services on heavily-demanded routes! Yeah, it increases losses while foregoing easy revenues. Sure, there are other means of avenues for revenue generation from leveraging land to advertising, but the first thing a business should do is to try everything to make its core business earn money. Indian Railways resists privatisation and eschews profit under the ostentatious pretense of "public service". A noble one indeed, because public transportation enterprises, especially government-owned, should not be run with the single-minded profit motive. However, Indian Railways ends up neither making money nor providing any service.
The Missed Opportunity of Bengaluru
Look at Bangalore. India's alleged IT capital's legendary transportation problems aren't limited to within its limits but to around it as well. Getting to any city from Bangalore is as much as hassle as it is to get to places within it. There are no dedicated daily overnight superfast trains between Bangalore to most of its neighbouring cities, be it within or outside Karnataka: Mangalore, Udupi, Karwar, Belgaum, Hubli, Gulbarga, Trichy, Coimbatore, Madurai, Trivandrum, Ernakulam, Kozhikode, Panaji (Madgaon), Pune, Mumbai… Chennai is the only exception to this list. The lone daily superfast to Hyderabad goes only until Kacheguda. Bangalore also sees the largest concentration and growth of automobiles, private and state-owned bus operators, and is home to the fastest growing airport in India, all at the expense of the railways. The South Western Railway (SWR) which runs trains in Karnataka is solely and squarely alone responsible for this. The railways are the weakest transportation mode in Bangalore be it suburban, regional or intercity, when it could've been the strongest. Bangalore is Indian Railways' biggest missed opportunity.
One does not really need any fancy analytics tools to understand patterns of passenger flow in and out of Bangalore, but only common sense. Bengaluru, is an enormous economic hub with an uncountable floating population. Bengaluru's enormously affluent migrant population shell out large amounts of money on overpriced luxury buses traveling to their "native places", mostly neighbouring cities and towns less than 12 hours away, especially on weekends, because there are no trains available. Any train to any destination out of Bangalore on a Friday evening and returning on a Monday morning runs full the year round and makes lots of money. However, there are only very few such trains. There is no Bangalore-Madurai Superfast or Bangalore-Trivandrum Humsafar or Bangalore-Mumbai Duronto. Instead, there are slow, long-distance, cross-country "national integration" weeklies to faraway destinations. These trains serve no purpose for the thousands who are looking for fast, intercity and overnight travel, and even are ready to spend money for it!
Anyone with the slightest understanding of how business is done will be baffled at why are they are seemingly forgoing millions and millions in revenue. People are baffled because they think of Indian Railways to be like any other enterprise who plan their services for maximum revenue gain, customer satisfaction and all that through careful analysis of demand, competition offerings, customer expectations, behaviour patterns and so on. As explained in the previous chapter, it is nothing of the sort. Indian Railways, as the bureaucratic successor of the erstwhile British Raj railways, aims at only serving itself and its officers. They seemingly take no account of passenger demand or business requirements before running train, doing so only because they have to fulfill some bureaucratic requirement like rake utilisation. And nowhere is this more evident than in the Bangalore-Kerala sector.
The Bangalore-Kerala Railway Travel Crisis
The travel crisis between Bangalore and Kerala is legendary. There are a million Malayalees in Bangalore and only three daily overnight trains, one to north Kerala and two to south Kerala. It is close and next to impossible to get a ticket on any of these trains with waiting lists longer than the trains themselves, all of which run with 23 coaches. All in total there are only a measly 32 total services to Kerala from Bangalore, and only three run on weekends! There are seven overnight trains from Bangalore to Kerala on Thursdays, but only three on a Friday! Any new train started is strategically announced to run during the middle of the week with odd timings to make them useless to passengers. Examples are the two Ernakulam-Bangalore (now Banaswadi) Superfasts and the 16561/2 AC express. These trains are run because the rakes of the Ernakulam-Patna, Ernakulam-Okha and 12213/4 Duronto have to be run to somewhere, even if empty and at a loss. In addition to all this, they are also now pushing trains from Kerala terminating at Bangalore City station to the middle-of-nowhere hellhole called Banaswadi, further alienating people from trains.
For over a decade, people have been crying themselves hoarse for more trains between Bangalore and Kerala, especially on weekends. Nothing has materialised. This travel crisis has reached acute conditions that are now approaching "violation of human rights" levels as the railways steadfastly refuse to start any new trains. There is no room for excuses, the demand was sky-high a decade back, and if there was a paucity of infrastructure, it could've been created by now. The present trains cannot handle even 10% of the demand. Any old train introduced in this sector will run full the year round. In fact, at least three more trains can be added during the weekend alone! Not only will it ease the suffering of the people, but bring in a lot of money to the railways as well. But no cigar. What progress can you expect when such huge-anti people and anti-development forces are running the system that is the lifeline of the nation? It is this why even simple things are such a big ordeal in this country. Every turn is a money-making opportunity for someone. They simply do not want to start new trains. In fact, there is a case where such a train, already announced to be run four years back, hasn't started yet thanks to these vested interests, which is the biggest example for why the railways have no moral right to cry about losses.
The Curious Case of the 22657/22658 Trivandrum-Bangalore Express
In the 2014 interim railway budget the then Railway Minister Mallikarjun Kharge announced a new biweekly "Premium" service to be run between Bangalore and Trivandrum. This train was included in the next years' timetable (TAAG 2015) as the 22567/8 Trivandrum – Bangalore Premium Express, featuring a revolutionary timetable. It would leave Trivandrum at 1915 on Thursdays and Sundays (the Rajdhani slot, no less) to arrive Bangalore at 0810 on Fridays and Mondays, and then return from Bangalore at 1900 on Mondays and Fridays to arrive at Trivandrum at 0830 the next day, the perfect timetable in accordance to the flow of passenger traffic! This train would've run full on its every single run and would've mitigated a lot of suffering. However, that was not to be. The train was never introduced. Now, all trains announced in a railway budget and included in a timetable are always started, no matter who announced it, even if the government changes. And moreover, this train was then removed from all subsequent timetable! All this is unprecedented in the history of the Indian Railways.
The 22657/8 "Introduction" Timeline
Premium train between Trivandrum and Bangalore announced in the Feb 2014 interim railway budget.
Train finds place in the 2014-15 TAAG timetable as 22567/8 TVC-SBC-TVC Premium.
A slew of special trains is run on this timetable duing Summer, Onam and Christmas/New Year seasons from 2014 to 2016 under train numbers 02657/8, 02662, 00611, 02659/60, 00633/4, 02611 etc,
In late 2014, LHB coaches are transferred to Trivandrum division to officially start this train. Some trips of special trains were run using these rakes. In August 2015, Malayala Manorama reports these coaches to lying in QLN yard overgrown with weeds and their electricals eaten up by rats.
The then railway minister Suresh Prabhu orders investigation on the wastage of the rakes and on why this train hasn't been started yet. Nothing comes of it. Three years pass.
Dec 2017: News reports surface of a new Mysore-Bangalore-Trivandrum biweekly train to be started soon.
SWR and SR officials meet to finalise timings of this new train. TVC/SR proposes timings of erstwhile announced 22657/8. SWR outrightly rejects this.
Now, SWR says they will run a weekly train from Mysore via Bangalore to Trivandrum on Thursdays. This is very much needed since there are only seven other trains on Thursday while Friday despite being a useless day has a huge number of three trains to Kerala. /s
Trivandrum division and MPs etc from Kerala beg Southern Railway to give them a rake to run the train. SR seems not to be relenting.
Union minister for tourism Alphons Kannamthanam announces at Punalur that the train will start running "soon".
Minister of State for Railways Rajan Gohain says they will try to run the train from Yeshwantpur.
SWR shoots down another proposal to run the train.
Finally, TVC division announces the will start running the train as an all 3AC Humsafar express from Trivandrum Kochuveli to Bangalore Banaswadi but with somewhat diluted timings and altered days of running.
The money this one single train alone could've made is mind boggling. An example will put this in perspective. SWR ran a special train 06575 from Bangalore to Trivandrum on September 01 2017. Reservation for its 1496 berths opened at 0800 hrs in the morning of August 29. Just before midnight on the same day, there were only 127 berths left! By 0900 hrs the next morning, the sleeper class had gone into RAC and 3A was well into waiting list! The entire train, all 1500 seats, was sold out in a little more than 24 hours! Taking a Rs. 465 average ticket fare (Rs. 540 end-to-end), that train made a cool 7 lakhs in its one single run! 22567/8 with its eight AC coaches would have easily collected upwards of 10 lakhs on a one-way weekend run. Giving some slack for the weekday runs, it would've bought in around 30 lakhs every week and close to 1.25 crore Indian Rupees every month! Give it a thought. In the country that probably invented trade and business, we have a set of people purportedly running a business, sitting on their hands and refusing to easily make money, and cry about losses and blaming the people for that! Isn't it incredible?!
[Best_Wordpress_Gallery id="2″ gal_title="Bangalore-Trivandrum Premium Train News Gallery"]
Yes, what you see is what it actually is. Railway officers are actively trying to prevent the introduction of a train which would've brought much relief to people and generated nearly 15 crore revenue a year! They have stalled it since its inception, and are now trying to stall it further, and if possible kill it, along with all other such high-density intercity trains from Bangalore. Tracks and terminals are saturated, you say? Yeah, like they are. This "terminal constraint" excuse falls apart as a lie on close inspection. SWR has started around 12 new trains since 2014 from various stations in "spaceless" Bangalore, including spectacular flops like the Jaipur Suvidha, all the while maintaining that they don't have "space" for 22657/8 alone. The same SWR also runs the 06579/80 KJM-VSKP and 07603/4 KCG-KJM specials, both which arrive at Krishnarajapuram on Mondays, the former actually using the exact same slot that was meant for 22657/8! They also have also no problem in running the new daily Uday Express to Coimbatore and a Humsafar to Varanasi. They can start that train but can't start the train to Kerala? Recently the two Ernakulam Superfasts were moved out to "middle of nowhere" Banaswadi, causing untold misery and hardship to passengers, because, yeah, you guessed it, no space at SBC. They have space, slot, route, rake and terminal for all trains in the world except for those to Kerala.
All these "excuses of space and path constraints are merely eye wash. Just the revenue alone would've been reason enough for them to move heaven and earth to run the train. There has been endless outrage, petitions, dharnas, serial reporting in all Malayalam media, queries by MPs, orders from railway ministers and even the Prime Minister's office to run this train. Still, nothing. Even after having such potential for revenue, even after such demand and outcry and orders, autocratic railway officials steadfastly refuse to run the train! Apparently India is a democratic country.
Bangalore-Hyderabad is a similar sector. The Secunderabad-Yeshwantpur Garib Rath Express which initially started as a tri-weekly with departures including from Bangalore at 2000 on Fridays and from Hyderabad at 1915 on Sundays, making it super convenient the tens of thousands of Telugu techies. So big was the dent caused by this train, that the powers that are conspired for the train to arrive YPR at 1115, and then to leave YPR at a ridiculous 1330 and arrive at SC at an equally ridiculous 0400, effectively killing it. After a lot of outrage, the train was rescheduled to arrive YPR at 0915 and then leave at 1645, somewhat mitigating the problem. But then, they changed its Friday departure from Bangalore to Saturdays. Boom!
So, what could be the motive for all this? We all know what, don't we? There are around 600 private luxury buses plying between Bangalore and various destinations in Kerala, as they do to all cities around Bangalore, like Hyderabad, Mangalore, Pune etc. Trains are their biggest enemies and worst nightmares. They are a very powerful and influential force that can easily get the railways do their bidding. The fewer the trains, the more the scarcity of seats, allowing them to charge fares as they wish. Last New Year, the ticket prices hit Rs. 4000 per seat for a 10-hour journey, while Rs. 2000 is the everyday norm on a weekend these days. Adding to this, the Karnataka government itself is a bus operator with KSRTC and BMTC, which could be a reason why the state is not really interested in developing its railway network. This is not just unjust, but criminal. The private bus business seems to be the only business thriving in the country right now. Despite all the legal hurdles, corrupt officials, permit problems, traffic jams, taxes, bus, fuel and maintenance costs and so on, they manage to keep adding buses and routes and passengers and efficiently run at a (seeming) profit. At the same time, all the railways do is cry about being unable to make money and blame everyone else but themselves for it. That itself tells something. Why does anyone still think that the railway bureaucracy has any concern about the passengers, revenues or anything like that?
Run at least part of the Indian Railways like a business
A lot of Indian Railways problems can be solved if they just start working like how a real business is supposed to. They can whine and wail all they want about poor finances and bad revenue recovery, but nothing is going to change until they start actually really try to make money, which is by running trains to places where there is a demand for those services. It is ridiculous and nonsensical that they are asking the public to subsidise and bail out those who are causing them untold misery by their corruption and incompetence. Do they want us to give handouts to both sides? The railways should first rein in its errant officers and ask them to shove their excuses and start running trains on financially remunerative sectors and make it clear that their job is to run trains to make money and benefit the people, and not to keep vested interests and competition in business! They can start by running the 22657/8 biweekly superfast train between Trivandrum and Bangalore.
The 17321/2 mega white elephant express takes a whopping 21 hours to run on a useless route from Hubli to Mumbai via Solapur. And it predictably runs completely empty And it runs on a weekend. Now, there is insane demand between Hubli and Bangalore on weekends. If SWR had any sense of anything, they would've cancelled this train and use that terribly underutilised rake to run a weekend Hubli-Bangalore biweekly (ex-UBL: Fri, Sun, ex-SBC: Sat, Mon – The rake runs as 12777/8 on other days). This way it will benefit way more passengers and bring in a lot more money.
P.S. Change.org petitions are useless, yes, but it is the only way for us the powerless plebeians to raise a squeak against the powers that are.